Graham Reid | | 2 min read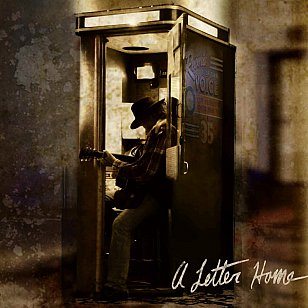 In a couple of weeks there will be an expanded edition of this album -- two vinyl albums, a DVD, a CD and seven singles and more in handmade box -- but here we are just dealing with the single vinyl album, recorded at Jack White's Third Man Studio in Nashville.
At one level you could say it's a vanity project -- Young covering 11 songs which mean something personal to him -- and the record comes as deliberately battered looking in a thick stock cardboard cover. The inner sleeve looks yellowed and the label is worn. The whole thing looks like a much loved 40-year old album pulled from your shelf where it was sitting alongside your original copy of Harvest and Everybody Knows This is Nowhere.
And by being recorded live on very lo-tech equipment in mono it sounds even older, although to say it is akin to an old Folkways recording might be going too far.
A confession here though, my needle is in need of replacement so maybe there isn't as much surface noise as I think. No matter. It certainly and deliberately sounds old.
Check the clip for his treatment of Bert Jansch's Needle of Death (which inspired his own Needle and the Damage Done) and you'll get the picture.
And the song selection -- all music influenced folk and country -- goes right back too: tunes by Phil Ochs, Bob Dylan, Jansch, two apiece by Gordon Lightfoot and Willie Nelson, Tim Hardin, Ivory Joe Hunter and Don Everly. The most recent is Springsteen's My Hometown, a song which dates from '85.
The album takes its title from the spoken letters to his late mother at the start of each side (talking about his current life of troubles, how she should talk to his dad again, saying how he and Jack have rediscovered these old songs) but the selection also reinforces the idea of a personal missive to longtime fans who might also share some history with these songs.
The nature of the project suggests it might only appeal to the die-hards (those who prefer electric Neil with Crazy Horse might just hear this as the musings of an old man) but as I mentioned in my review of the recent Kris Kristofferson concert, songs can change in the hands of older singers.
Certainly his version of Nelson's Crazy -- complete with whistling -- sounds like it is coming to us from the Thirties, and Hardin's Reason to Believe (at piano) is more ragged and almost jaunty when lined up against more emotionally wrought treatments (and Rod Stewart's classic interpretation).
However Springsteen's My Hometown -- wistful, melancholy and pensive in the original -- here sounds like it's being sung by a man who's been frayed by life, is bitter about some of what he endured, and tense when he thinks about it.
The slower tracks are the best -- a quivering version of Lightfoot's If You Could Read My Mind and Early Morning Rain, a thoughtful Changes by Ochs, Jansch's Needle of Death -- but you'd have to be an extreme Neil fan to make the case for his version of On the Road Again with White sounding like two tuneless old campfire buddies.
They are rather better on the Everly's I Wonder If I Care As Much.
And he does a decent but hardly essential version of Dylan's Girl From the North Country.
So a mixed bag from Neil, but when wasn't a Young album exactly like that?
These projects and the one-off reissues are interesting, but would it be asking too much to get the next installment of his Archives series?
For much more on Neil Young at Elsewhere start here.
NB. I bought my copy from JB HiFi on Queen St, Auckland (here) for $35. I believe it would be post-free within New Zealand. The vinyl does not include a free download.