Graham Reid | | 1 min read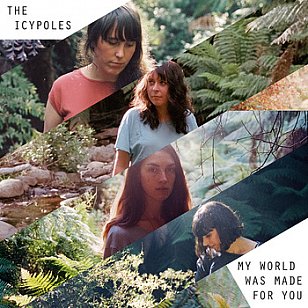 While no band should be held to whatever promo blurb their record company put out -- although don't they have veto? -- it is howlingly absurd that this deliberately cute, soft and lightweight pop group of four women from Melbourne should be mentioned on the same piece of paper as the Shaggs, Julie Cruise (whose Just You they cover rather faithfully) and the Shirelles.
The Camera Obscura reference I get because both Icypoles and that excellent Scottish group manage to stay just the right side of twee.
The first international signing to New Zealand's Lil' Chief label (home to the Brunettes, Princess Chelsea and other excellent bands along this lightly ironic but scrupuously polite faultline between childlike pop and reductive folk-rock), the Icypoles keep things short and very simple across 13 songs which have some really nice harmonies, some really nice sentiments about love and a kind of innocent Fifties teengirl view of dating and happily everafter, with just the right drop of lemon to take the edge off the sugar.
Popular Boy however hints towards that Shirelles influence (just hints in the backing vocals) and it's about another girl stealing her boyfriend. Unfortunately that's as far as the story goes.
The catchy Babies -- about being one, the affectionate description of a lover, making one -- is kinda cute and (like Happy Birthday later) sticks for its almost skeletal simplicity. Round n Round is almost a kindergarten song but it has a rather unsettling idea driving it.
It's very good, but better is the slightly acerbic Don't Fall in Love With Me which also manages to be both sides of the emotional fence (I'm hurting you, but look what I'm going through).
And Settle Down shows an independent spirit which is the neat oppostite of the sentiments sometimes displayed elsewhere. They also deliver their own decent take on the Prince co-penned Love Thy Will Be Done (for Martika's album Martika's Kitchen).
There are a lot of Fifties sound, style and notions across these songs, and this is at it's best when it's American Graffiti and not Joanie Loves Cachi.
But quite the little charmer actually.
The Icypoles launch this album at Auckland's Golden Dawn Friday May 23 (with the Eversons) and will be supporting Lawrence Arabia when he plays his albums in their entirety soon.