Graham Reid | | <1 min read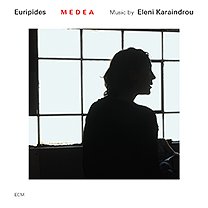 Although the Greek composer Eleni Karaindrou writes mostly for screen and theatre productions, her albums are always like stand-alone statements of great beauty or drama.
This entrancingly dark album is no exception. It is the music for a modern stage production of the solemn play by Euripedes, one of the great ancient Greek tragedies of vengeance, murder, dark passions and retribution.
A bundle of laughs in other words, although I believe no one make the old joke, "Euripedes, you mend 'em".
In all seriousness though -- and this music for cello, female chorus and unusual instruments like ney (Egyptian flute) and santour is deathly serious -- this album is utterly seductive in its slow unveiling of melodic lines, evocations of states of the subconscious and even passages of memorably ethereal singing by the composer herself.
For such a dark play this music is transporting in its spare, considered sound and the use of Greek, Egyptian and Indian instruments alongside clarinet and violincello give a stateless internationalism.
Karaindrou's equally remarkable Dust of Time from 2009 is reviewed at Elsewhere here. She is a composer well worth discovering.