Graham Reid | | 2 min read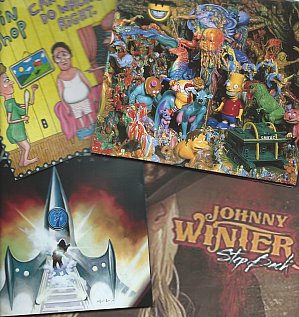 With so many CDs commanding and demanding attention Elsewhere will run this occasional column which scoops up international artists, in much the same way as our SHORT CUTS column picks up New Zealand artists.
Comments will be short . . . and today we turn attention to plank-spankers.
Elvin Bishop, Can't Even Do Wrong Right (Alligator): It's one of those odd things that many people think of guitarist Bishop for that terrific song Fooled Around and Fell in Love in '75 without realising the soulful singer on that track wasn't him at all but Mickey Thomas (who sang it well again when he appeared with Starship back in February). Thomas returns here to deliver the fine and not dissimilar Let Your Woman Have Her Way (which you'd actually like to hear Rod Stewart do) and Charlie Musselwhite adds his distinctive harmonica to the drearily geriatric sentiments of Old School and No More Doggin'. Otherwise this is a straight-ahead blues album which is too often perfunctory but would probably sound okay on one of those blues cruises out of Florida. The truly awful Dancin' here sounds written for that sole purpose.
Johnny Winter, Step Back (Megaforce/Southbound): When Johnny Winter died back in July there was an understandable outpouring of tributes to the whitest man in blues. This album of covers was completed a few months previous and guests include admirers like Ben Harper, Eric Clapton, Billy Gibbons, Paul Nelson, Joe Bonamassa, Brian Setzer, Dr John and others. So something of a celebrity collision who don't sound as if they are stretching themselves but just enjoying the moment. But at the centre always is Winter who was still capable of playing up a storm (Long Tall Sally) even if the musical settings are almost wearily familiar. A highpoint is his ragged solo acoustic version of Son House's Death Letter where his ravaged vocal is matched by his period-style Delta playing.
Ace Frehley, Space Invader (Shock): One of the oddest tribute albums is Spaceways: A Salute to Ace Frehley, the guitarist in Kiss whose style I never took to be so distinctive it required Dimebag Darryl, Sebastian Bach, Gilby Clarke and others to line up in honour. That said, one of the better and most honest rock autobiographies is by Frehley so we come to this bristling widescreen solo album well disposed, and when he nails down massive power-pop like I Wanna Hold You (which stops just short of "we go wild, we go crazy") or just mines those chord progressions that seem alarmingly familiar you just gotta smile in appreciation. The theme of space travel in places is laboured (Toys is better when he just wants to go to Vegas, shoot craps and stay up late) but it leads to a dreadful cover of Steve Miller's The Joker and the seven minute concept instrumental Starship at the end. Enjoyably bad. Play at 11.
Slash, World on Fire (Sony): Billed as Slash featuring Myles Kennedy and the Conspirators (ie the singer and rhythm section), this ludicrously overlong album (17 songs, 78 minutes) sets a breathless pace from the opening title track through industrial-strength power ballads, guitar pyrotechnics and the desperate spirit of Eighties LA being channeled into what sounds like an attempt to set a land-speed record. It takes itself very seriously (and in a few places Kennedy coming on like Guns N' Roses or a more angry Bon Jovi it need be said). "The sky is calling, the wind is at my shoulders" is a typical lyric, but the anti-ivory poaching song Beneath the Savage Sun is well intentioned if a little lost in this context. Not many songs these days take an elephant's viewpoint, to be sure.