Graham Reid | | 2 min read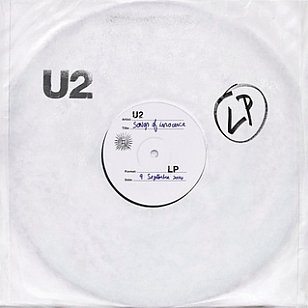 Because there's often a rush to judgement about U2 -- many hate them so passionately they don't feel the need to listen to them before dismissing an album as rubbish -- I've sat back on this new album released free through iTunes.
I will declare my prejudices immediately: I liked very, very little of their work before Achtung Baby (I can be especially scathing about the pretension of Rattle and Hum if you have an hour or two) but when they broke with their bombastic past on that remarkable album I admired them immensely.
They were heroic and possibly arrogant, but other than Bowie I can think of few other major artists who have so significantly changed direction.
Achtung Baby and Zooropa are among my top 100 albums, and I believe their Zoo TV was the finest stadium show I have ever seen. They had the courage to do it and the money to lose.
I even have the six CD/four DVD box set Achtung Baby/Zooropa remixes etc and I play it often.
I even saw the Pop Mart tour in the States and although it was impressive you could feel the reverting to type. They were wrapping up the big ballads in the trappings of Achtung/Zoo/PopMart iconography and it came as no surprise that they simply went back to doing what the original fans liked.
The shows remain big (the most recent the least interesting) but the music was just same old-same old to me.
Much as I liked parts of their last one No Line on the Horizon I joked the other night it should have been called No Sign of Life on the Horizon.
When this new album was dropped onto iTunes many people took to Facebook and anti-social media sites to rail against the band, how presumptuous it was for them to give them something for free they didn't ask for, how they could get it removed, how awful it was . . .
Hmmm, as Dan le Sac Vs Scroobius Pip said, "just a band".
It seemed people were getting very worked up over something they could have just ignored.
I dropped the tracks to disc and for the past few days I have been listening to it in various places and, as far as I can, detached the music from the cultural accretions around U2. It's hard, especially when this is certainly the most personal album that Bono has ever written. He celebrates how the Ramones were his teenage saviours (The Miracle), discovering America (California with its Beach Boys references), a loss of faith (Raised by Wolves) and so on.
What interests me mostly is how subdued all this sounds. The big chest-baring ballads are (mostly) absent, the distinctive guitar of The Edge is also largely reined in.
Of course there are some of the usual U2 tropes: Every Breaking Wave ticks many familiar boxes in a low-key way but is quietly delightful for all that; Song for Someone is U2 as lazy as its title suggests.
But mostly this sounds like a band jogging on the spot.
It is perhaps U2's least offensive album -- it shouldn't really offend the sceptics either, perhaps just re-enforce prejudices -- and its sole purpose seems to try to humanise a group that elevated the impersonal to an art form, and to remind its audience that, after the weak No Line, they were still out there. And folks, here's a freebie to get you back on side.
Its title alludes to William Blake so we might expect a Songs of Experience soon, and given those positions are diametrically opposed I'll tune in for that.
Aside from a few tracks (The Troubles is a keeper too) I doubt I'll play this one much more.
This really feels like them testing the water and raises the spectre of "where to next"?
I hope they regain the courage they once had. Although why they would bother is another matter.
I suspect most people want the familiar from U2, and -- if many of the on-line responses to this freebie are anything to go by -- those who don't would condemn them anyway.