Graham Reid | | 2 min read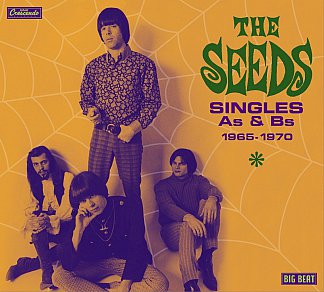 Elsewhere's advocacy of power pop and garageband rock (especially Sixties stuff) is well documented . . . so this collection of 24 songs by the legendary Seeds out of LA was always going to be straight into the player (how I wish I could say "onto the turntable") and the volume knob turned heavily clockwise.
The band that gave the world bona fide classics like Pushin' Too Hard, Satisfy You, Mr Farmer, the menacingly sexual Up in Her Room and other tight two minutes-plus garageband rockers (as well as the great if increasingly eccentric and damaged singer Skye Saxon, originally a Mormon from Utah) get their dues on this excellent collection . . . which comes with a great booklet of photos, the story behind the band and full song credits down to place, time, producer/engineer and the names of additional musicians on the sessions, notably bassist Harvey Sharpe.
Bet they never thought that would happen for them when they formed in the mid Sixties.
What also set the Seeds apart -- like Thirteen Floor Elevators -- was their embrace of psychedelic rock, while always keeping the rock part of the equation prominent. And they had organ in the line-up (Daryl Hooper) so there was rather more musical colour to them than some of the garagebands of the same time.
As the liner notes concede, "The group played exactly the way they should have. Nobody was a virtuoso, but they were great together, and that's what counts. It was a perfect storm, you might say".
Nope, no vitruoso guitar solos to spin out the psychedelic trip effect from the brilliantly named Jan Savage, just thrillingly tight songs embellished sometimes by mad keyboards for a few bars (and no more) and a tension made flesh by Saxon's urgent singing.
Times changed quickly in the latter part of the Sixties of course and after drummer Rick Andridge quit -- around the time Saxon lost the edge he'd had just a few year previous -- things started to unravel. Their terrific Satisfy You of '68 would have been a classic in any year between '61 and ''66, but at the height of the hippie era it didn't cut it as contemporary alongside Hendrix, Jefferson Airplane, Moby Grape, Cream and all the rest.
Songs like that actually sound better now when the landscape of rock allows for many different schools to flourish. And even 900 Million People Daily All Making Love -- pretty much their Doors song -- doesn't sound quite as obviously naff today.
And you just have to laugh at the country-rock hoe-down on Falling off the Edge of My Mind.
Yes, the first half of this disc is better than the second because the latter finds the ever-changing line-up of the Seeds forgetting their raison d'etre . . . which was to be a great garage rock'n'roll band and not be followers.
But this is the Seeds, and sometimes that's enough.
When Sky Saxon died in June 2009 he was much mourned by those who knew, and knew of, him. And most people, unfortunately, were not in that small club.
If you think you might like to join a select group of Seeds fans this is your membership card.