Graham Reid | | 2 min read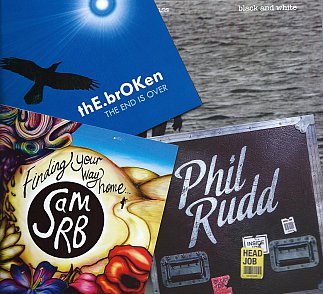 Facing down an avalanche of releases, requests for coverage, the occasional demand that we be interested in their new album (sometimes with that absurd comment "but don't write about it if you don't like it") and so on, Elsewhere will every now and again do a quick sweep like this.
Comments will be brief.
Sam RB; Finding Your Way Home (samrb.com): Sometime Auckland street busker Sam RB -- now playing house concerts and corporate functions -- encloses her business card with this, her third album and on the back there is a quote from me: "Sam RB's voice is pure but also offers unadorned emoption . . . she reveals a fragility which many could readily identify with". That's a conflation (with permission) of my comments on her last album Queen Street Acoustics.She remains a sensitive folk-cum-pop singer with a lovely voice (check Busking, which sounds nothing like the title suggests) and again these 14 originals (or co-writes) find her in impressive form with assistance from the likes of guitarist/producer Andrew Buckton, pianist Stephen Small among others. Mike Chunn plays bass on the magnificently swelling Shooting Star which he co-wrote with her. She still sings with a street-eye view and empathy (The Smile in His Eyes) and speaks of the fragility of people's souls but her poetic lyrics continue to deepen and widen, and when you hear something as beautiful as It Rains Down you know she's someone special. Sometimes she wears borrowed clothes (Say Goodbye sounds eerily familiar) and most of these songs broadcast on a similar frequency (Finding Your Way Home kicks things up a notch and the poppy Thank You sounds as good as any indie.folk rock on radio right now). But the classy arrangements give a sense of texture and breadth this, another of her self-funded albums. Recommended.
Phil Rudd; Head Job (Universal): Under an album title as subtle as the music of AC/DC in which New Zealand-resident drummer Rudd was an on-then off-then on again member, this often laborious pub metal was initially written some years back before he rejoined AC/DC and then had some others added more recently. So I believe. But honestly, it's very hard to care much as this power trio -- Rudd and what he described to his bandmates in AC/DC as "two hairy guys from New Zealand" -- churn through material that at its best nudges close to Thin Lizzy but mostly mines the familiar. Even going perilously close to pop-metal in places, which you do think would make decent radio filler. But this is just an enjoyable side-project for Rudd and of minor interest.
Rob Joass, Black and White (robjoass): Accomplished singer-songwriter Joass from Wellington (of Hobnail and The Shot Band) offers this second solo album which include a re-hit at his excellent 2006 Dead in the Water (which was nominated as country song of the year) and a powerfully beautiful new song The Winter Bells with Wayne Mason on Hammond. And the spare Jimmy Ray is an emotionally engaging story from a Death Row prison cell. Nine well focused songs and a lived-in voice available here.
thE.brOKen, The End is Over (bandcamp): This Auckland three-piece hardly need mention they are influenced by Eighties synth-pop bands as it is all over these 10 songs. The only real question is, which month in '82? All the elements are enjoyably here: metronomic electro-beat, lyrics about emotional dislocation, memorable and moody choruses . . . The players enjoying and indulging themselves are Pearl Runga, Justin Maclaren and Simon Fennel (the latter two of alt.rockers Coelacanth, the former two married). In the old days the Woman's Weekly had a children's page and kids who drew a picture of Donald Duck or Pingu would get "copied, 5 points" after their name. You could say that about this, but oddly enough it's actually kinda cool in that it is both living in someone else's lightshow while these songs exist in their own right. If you are having an Eighties office party this Christmas these are the people to call. Contact them here.