Graham Reid | | 2 min read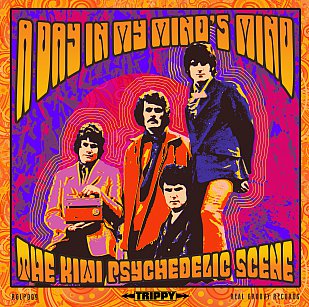 A few months ago a friend and I were discussing prog-rock -- it had been a long lunch, this topic doesn't come up often -- and I observed there had been very few great prog statements by Kiwi artists in the late Sixties/early Seventies.
I suggested prog by its very nature was expensive music to create and perform.
He demurred and I bowed to his greater knowledge.
For a couple of years he had been ensuring that unavailable albums by New Zealand artists were being digitised and put up on Spotify and/or iTunes. And in the course of doing that he'd discovered quite a trove of hitherto unknown Kiwi prog.
So much so that a week later he gave me a copy of a double CD compilation he'd made for himself. He'd entitled it Taniwha From Topographic Oceans.
It deserves to be released.
We did agree however that Kiwi psychedelic music of the same period had been very well served, and we attributed that to the work of archivist and Kiwi music enthusiast Grant Gillanders who -- for very little, and sometimes no, recompense -- has been creating CD compilations of dozens of New Zealand artists from the pop-rock era of the Sixties.
And then he started on psychedelic music with four CD collections entitled A Day in My Mind's Mind. These are valuable compilations becase they rescue bands like iozzy Limits, the Top Shelf, Tomorrow's Love and others from obscurity. They also included tripped out songs from unexpected quarters (Ray Columbus and the Art Convention with Snap Crackle Pop and the pysche-punk Kick Me).
It was my privilege to write some liner notes for volumes two and three (see here).
But now comes something rather special: this double vinyl collection of Kiwi psychedelic music released in a limited edition of 500 copies and is only available at Real Groovy in Auckland on Saturday.
That's the day Real Groovy celebrate their 33 1/3rd birthday -- an anniversary which might baffle those who've never known the joy of LP records. It's more than just a witty piece of timing however as Real Groovy were a revolution in New Zealand in terms of their commitment to record buyers.
From small origins in a shop at the top of Mt Eden Rd to their longtime current home on Queen St -- something of a megastore, and on the site of the old musicians club -- they broke a lot of rules, notably by trading on a Sunday.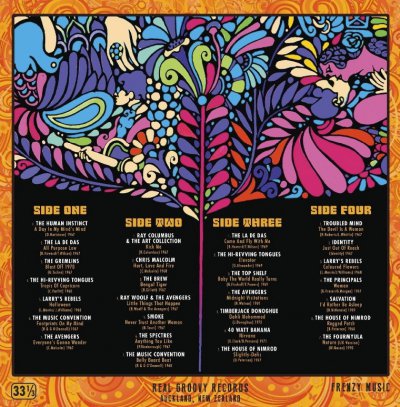 So this weekend when the Stones are in Auckland and people will be coming from all over the country, Real Grrovy and Grant Gillanders are launching this 28 song, handsomely packaged double vinyl in a gatefold sleeve.
You can see who is on it with what here (right) . . . but also on the day there will be bands playing, among them Devilskin (whose We Rise will also be available on vinyl, red or black and each with a bonus 7" single).
There wil be DJs (MP Jacinda Adern, Paul Martin of the Axe Attack radio show and bassist in Devilskin, Beastwars drummer Nathan Hickey) and more.
It's a birthday party as much as an album launch.
But kicking in for the Mind's Mind is group made up of musicians who appear on the album: Greg O'Donnell of The Music Convention whose Bellyboard Beat is thrilling psyche-surf meltdown; Larry Morris (Larry's Rebels), Glyn Tucker (Gremlins) and Bill Ward (Human Instinct).
Time to dig out your old vinyl and get it signed?
And sign up for a double-dose of Kiwi psychedelic music on vinyl.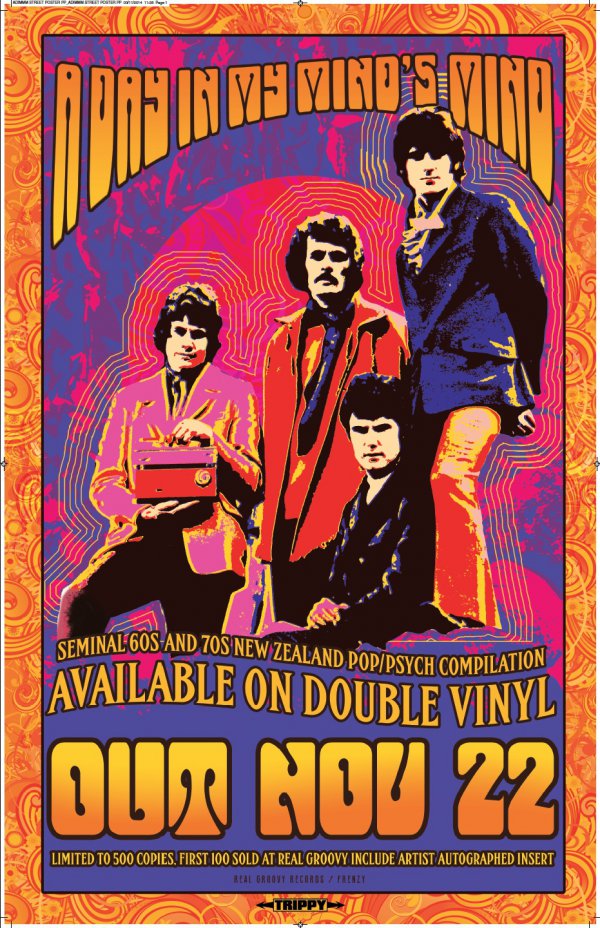 .