Graham Reid | | 1 min read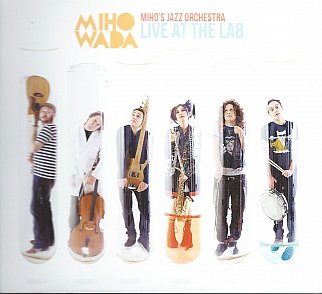 On the occasion of her debut album Postcards to Your Bed in 2010, I expressed considerable reservations about this young flute player who billed her style as "Japanese punk jazz".
That seemed a description so wide as to be meaningless, and nothing on the album suggested punk or jazz as I understand them.
I also noted her bio made some striking claims: being discovered by Nigel Kennedy at Ronnie Scott's in London, studying in Cuba with various Buena Vista musicians, Seun Kuti mentoring her at a Womad . .
I see that her latest bio says she has performed internationally with a number of people, including Iggy Pop. Well, she was on that Orcon ad with him but I'm not sure that counts as having performed internationally with him.
Still no artists should be judged by their bio -- although I expect she read it, approved and agrees she "seamlessly blends stylish contemporary jazz with her unique pan-pacific flavour".
And she has certainly done well for herself having recorded at Sun in Memphis (you can too, you just hire it) and charting albums in New Zealand.
But on the evidence of this album, recorded live -- the CD coming with a DVD of the event -- I'm going on record here saying I believe she remains a very modest talent indeed.
Here's the pattern on just about every piece here: she plays a pleasant or slightly energetic melody a couple of times, does a little "improv" variation (a couple of times usually), up steps electric violinist Pascal Roggen to rip into it a little harder and then it comes back to her who simply repeats what she did before. A very limited musical palette indeed.
Contemporary jazz?
Someone in my house laughed out loud and said, "it sounds like something from the Seventies". Of that debut I said "hotel lobby" music and to that I'd now probably just add "corporate function", in neither place would people be paying much attention.
Because if they did . . .
Regardless of whether the pieces bring a slight Spanish or ska feel, the patterns on flute and sax remain predictable.
There is very little musical weight or importance going on here, but I guess it was fun for her 20 family and fans to be invited to the Lab.
But such "jazz" as there is jazz-lite, and Wada's success seems premised on aspects beyond the unadventurous music. Because in that regard her talent is extremely modest.