Graham Reid | | <1 min read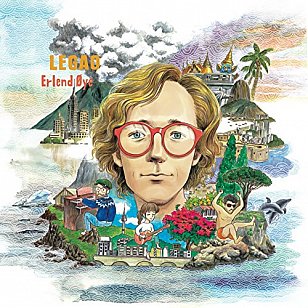 So here's how it goes in my Elsewhere world. A few months ago a friend was in Berlin somewhere, saw this guy Erlend Oye and his band, loved it, mentioned Elsewhere to the merchandising person after the gig and . . .
Subsequently this CD showed up.
"Clearly he seeks world domination," said my pal when I told him.
I also told him . . . err, yes, Elsewhere was actually aware of Mr Oye because he was The Whitest Boy Alive and we'd reviewed two of his/their albums here.
All my pal's references -- Boz Scaggs, reggae, minimalism etc -- we cited . . . but he also said of the live show, "a Norwegian Paul Kelly?", a Roger McGuinn on six string . . .
He also noted he was the oldest man in the audience.
So clearly Oye -- who was also in Kings of Convenience (remember their album Quiet is the New Loud which was announcing the Next Big Movement back in the day?) -- is getting a name among Euro-hipsters.
I hear a kind of folksy, acoustic, hurt-heart Belle and Sebastian/Sneaky Feelings in places, lotsa nice songs which don't really grip, really lovely melodies that Lloyd Cole would appreciate . . .
Not always guitar-driven, and the piano ballads are among the best. Although I am increasingly unforgiving of that reggae thing.
But by golly can he enunciate in a way that few manage. Every word crystal-clear . . . and that's the Scandinavian education system for you.
They should be down here giving elecution lessons. Thaddabe-awesum, bro'.
Nice.