Graham Reid | | 3 min read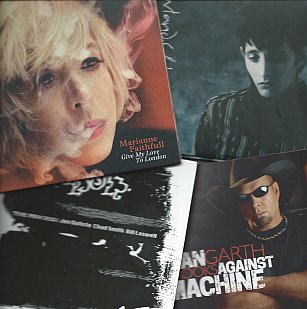 With so many CDs commanding and demanding attention Elsewhere will run this occasional column which scoops up international artists, in much the same way as our SHORT CUTS column picks up New Zealand artists.
Comments will be brief. Here were some that slipped in during the closing overs of this year.
Marianne Faithfull; Give My Love to London (Naive): It's easy to argue Ms Faithfull is the most over-admired, least listened-to and sometimes most tuneless singer of our time. But she's Marianne Faithfull who "lived a life" and is about three times smarter than most of us, so . . . But even those who profess to love her work might be pushed to name her last two albums (Easy Come Easy Go in 2008, Horses and High Heels '11, which followed her excellent and bruisingly dark Before the Poison of '05 produced by PJ Harvey). Because of who she is she's never been short of high profile collaborators and guests, and this late-career high is a who's who: Steve Earle (who co-wrote the title track on which Warren Ellis and Mick Jones also appear); Ed Harcourt (co-writing and appearing); Tom McRae; Son of Dave and Anna Calvi on the Everly Brothers' mid-Sixties Price of Love (given a smoothly urgent cover by Bryan Ferry on Let's Stick Together) . . . Nick Cave wrote Late Victorian Holocaust for her and it sounds a poetic version of her harrowing autobiography of those lost years; and the astonishing Mother Wolf ("that cub in your mouth isn't one of yours") co-written with Leonard Cohen co-writer (among many others) Patrick Leonard is a bitter disabusing of our brutally political overlords and religio-assassins. Not sure about her treatment of Hoagy Carmichael's I Get Along Without You Very Well, but that's because she taints a personal memory. Over-admired, least listened-to and sometimes singing in a flattened croak? Yes, but Faithfull hasn't sounded this connected to the past and present in a decade, maybe more. And bugger me if she doesn't rock out on the Everlys.
Rowland S. Howard; Six Strings That Drew Blood (Liberation): At a recent Q&A in Auckland Nick Cave was asked when he last saw Howard -- the guitarist/singer and songwriter in Cave's first bands The Boys Next Door/The Birthday Party. Cave told of an encounter in St KIlda and added, "Then he borrowed 50 bucks". Howard -- who died of liver cancer in 2009 aged 50 -- has been widely acclaimed as unique guitarist and writer, and this double disc covers a fair swathe of his work from his first song -- the brooding Shivers, here recorded live in '99 -- through the New Wave chipping guitar sound of After a Fashion (with the Boys Next Door), then seven Birthday Party songs (punctuated by a version of Goth menace version of Lee Hazlewood's Some Velvet Morning with Lydia Lunch) and two songs (Six Bells Chime and Her Room of Lights) with the band Crime and the City Solution. Thereafter it's Wedding Hotel with Nikki Sudden, a swag of tracks by his band These Immortal Souls which spill onto the second disc, Summer High by Magic Dirt then 10 songs under his own name. The Birthday Party songs sound the most dated (and their sound superseded) but the rest make the case for Howard as man apart from his more famous peers.
Batiste,Smith,Laswell; The Process (MOD/Southbound): In times past this trio might have been called a supergroup; New Orleans pianist/keyboard player Jon Batiste, drummer Chad Smith (RHCPeppers) and bassist/producer Bill Laswell. Add in guests like singers Tunde Adebimpe (TV on the Radio) and Killah Priest (Wu Tang Clan), wrap it up in an Afro-groove rolling rhythmic vibe, bring in sax and trumpet . . . With nods to electro-funk Miles Davis and Herbie Hancock's Headhunters as much as the spirit of Fela, and the spontaneity of just three days in the studio with no music prepared in advance and you'll get the picture. No one is coasting but no really new ground is broken, yet the whole effect is frequently impressive (especially when Batiste drops the mood to quasi-classical ballads). Perhaps just not frequently enough.
Garth Brooks, Man Against Machine (RCA): If we forget how huge Garth Brooks was for a decade from the late Eighties it's becase his fall was so spectacularly fast. Not many artists at the peak of their fame would release an album under another name (Chris Gaines), insist his label release it but make no reference to him, and that he woudn't promote it as anything other than the alter-ego. After another album under his own name Brooks entered an off-on retirement (mostly off) and only recently returned to the frontline. A country act who grew up on stadium rockers like Toto and Kansas, he hauled country out of the corner and into the centre of the frame, paving the way for the likes of Taylor Swift. He's doing a (somewhat troubled) world tour in support of this album which is nominally country but owes a little to Springsteen, the wide-screen rock of his youth (and own early career) and his story-telling singer-songwriter style. So for those who fondly remember his heyday when he was cracking great albums (hated by hardcore country people and snobs who equate success with mediocrity) this will be welcome. Interestingly he doesn't write much here but rather chooses songs which aim directly at the sentiments and concerns of his mainstream American audience (although Mom is tooth-rottingly sentimental). If he's coming back, this is a more than decent start. No surprises, none needed really.