Graham Reid | | 1 min read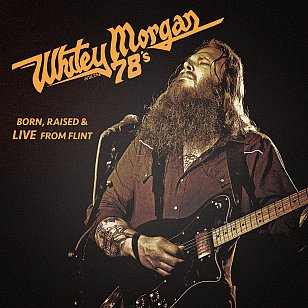 If there's any honkytonk, rockin' country cliche missed by this post-Waylon longhair wildman, it's probably only the one about the dog up'n'dyin'.
With his hard rockin' band recorded live before a hometown crowd in Michigan, he ticks off the Cocaine Train, being a bad man on Crazy ("by any other name") and Bad News ("I've been hired and fired and jailed in any town you can name ... leavin' them girls that hate to see me go"), cheatin' wimmen (Cheatin' Again), that honky tonk queen (on ahh, Honky Tonk Queen) . . .
When he asks "How 'bout a drinkin' song?" beforeTurn Up the Bottle (just before Another Round) you'll probably think -- if you were still sober -- haven't they all been drinkin' songs?
There's a decent reframed country-rock cover of Springsteen's I'm On Fire (which reminds you he's a crowd-pleaser), but mostly this is an album which confirms he's one to see live when you drop your guard and critical faculties, order up another Jack or tequila before he sings I Ain't Drunk ("I jes bin drinkin' ").
If any promoter is crazy/sensible enough to bring this band to New Zealand you shouldn't miss them. The vibe will be like a hard boozin' Texas bar and men will have permission to wear snakeskin boots and gals be, for the duration of the night, their own halter-top version of a honky tonk queen.
Can't believe he didn't have a dead dog song though.
Maybe it's on their 2008 debut album with the telling title Honky Tonks and Cheap Motels where quite a number of these songs came from.
Like the idea of this? Then check out this guy. And this one.