Graham Reid | | 1 min read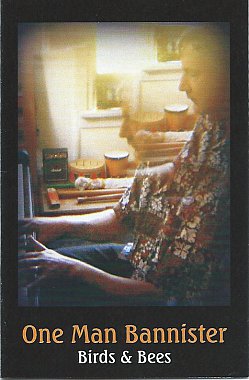 Releasing an album on cassette in an age when most people no longer have a turntable let alone something as archaic as a tape player seems a bit like that Spinal Tap thing: Being more selective about your audience.
It is however an interesting way of getting attention and I for one -- when I was offered a cassette of these songs, which prove to be quite sophisticated home recordings -- was up for it because not only do I have a turntable and tape player, but if Thokei Tapes ever move into 78rpm I have a wind-up gramaphone too.
You can never be too prepared.
The real attraction however is One Man Bannister's music because the one man is Matthew Bannister whose career reaches from Sneaky Feelings and Dribbling Darts of Love to time in the Mutton Birds and into some very impressive if lowkey solo albums (or as The Weather and Changing Same).
His previous release was the fascinating Evolver for which he reconfigured and rethought the whole of the Beatles' album Revolver and -- perhaps against the odds -- came up with something which was extremely good.
Elsewhere had it as one of it Best of 2013 list. (And I'd love to hear him undertake Rubber Soul, he's one of the few you'd trust.)
These 18 pices, some seductive instrumentals, across two side of a cassette find Bannister back in that territory where he has absolute command of astutely realised, sometimes slightly pastoral folk-pop with subtle layers of vocals and refined instrumentation.
There are pieces here, notably instrumental passages like B5, which are evocative soundtracks for unrealised films, and others (Starlight with singer Paula Law) which remind of a more fully realised outtake from McCartney's first solo album where musical and emotional directness were paramount, even if the lyrics were high on charm if not depth.
Following some of the interpolated instrumental pieces (all tagged B1, B2, B3 etc) you get something like the cleverly sinuous jangle-pop of A Boy And A Girl which channels the innocence of early love (with some shadows in there too).
I suspect that long ago Matthew Bannister gave up on the idea of setting the world on fire with his music and that he is content enough to simply produce at home albums of quiet consideration and thoughtfulness like this . . . and let it find its audience.
That said, his off-the-radar albums are very much worth finding for yourself.
This one is no exception.
If you don't have a cassette player then fear not, if you buy this delightful collection through bandcamp here for just US$8 or more it comes with a digital download.