Graham Reid | | <1 min read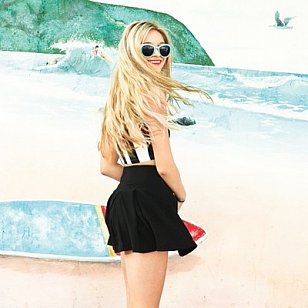 If there were a missing link between Sixties girl groups, California surf-pop, Nineties skater rock and Taylor Swift's assertive pop-sassiness it might be this lo-fi band helmed by singer-guitarist Melissa Brooks from Southern California who does a neat line in simplistic pop-rock with catchy choruses, a slightly flat (or indifferently "Whatever") delivery and looks the part on the cover.
It's easy to be cynical, but songs like Tweaker Kid channel as much Brenda Lee as girl group bubblegum pop so is smarter (and ruder) than it sounds, and when they pump up the volume in a Runaways/Joan Jett-style (Cool Cat) you can hear the move from small clubs to theatres before your ears.
They can also be deliberately dumb-fun (the irrepressibly catchy Big Headed Alien which is akin to early Blondie from sunny LA), at times like a lightweight Cramps (without the attitude and B-grade horror-shtick), a bit psychedelic (Woah Man) and have a deliberately kitsch, twanging surf-rock pastiche on Wacky Surf Trip.
Other titles include Don't Mean Jack, Long Hair Don't Care and Sinus Infection.