Graham Reid | | 1 min read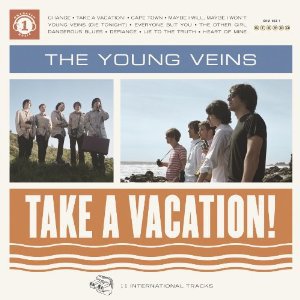 Here's my theory about The Young Veins, for what it's worth: they are aliens who crashed landed secretly in California behind a music store, got on the computer late at night and Googled "pop music".
Disturbed by the cops they grabbed some band names and songs at random, fled with some instruments and have subsequently launched their pop invasion on the back of a charming hotpotch of influences.
On this album you can hear deliberate references to the Searchers, Beach Boys, McCartney in both his Beatles ballad era (And I Love Her) as well as his early solo career (Another Day), a touch of Phil Spector girl-group and Brill Building pop, and maybe even they mistakenly picked up on the Rutles . . .
This album delights with summery pop tropes but has often bewildering or funny lyrics -- which explains my "alien theory", I initially thought this California five-piece had English as a second language -- and they cover When You Walk In The Room which shows impeccable taste (even if the result doesn't quite soar as it might).
They mostly sit at the lighter end of power pop but the real fun here -- other than soaking in it - is spotting the clever lifts from The Pop Masters (McCartney, Brian Wilson, the Association, the young Tom Petty etc).
On the title track they remind me most of the Wonders -- who of course weren't a real band at all. But the Wonders -- one hit wonders -- were great and so are these people, alien or not.
A summer soundtrack guaranteed to raise a smile and nod of recognition.
Like this, try Kelley Stoltz.