Graham Reid | | 1 min read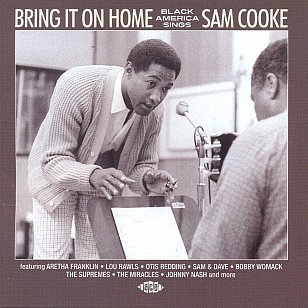 It was perhaps obvious that the on-going series Black America Sings -- which has seen compilations of black artists singing the songbooks of Bob Dylan, Lennon and McCartney, Bacharach and David, and Otis Redding: see here -- would come around to compiling covers of the smoothest and, some might say, the most popular soul singer of them all.
Sam Cooke's move from gospel to soul-infused pop seems as natural as waves rolling a shore when you listen to his songs between '57 and '64 (some of it collected on this disc).
Cooke had an effortless style -- songs like You Send Me, Cupid, Wonderful World and A Change is Gonna Come are pop/soul cornerstones and timeless -- and across the 24 songs here we get mostly respectful treatments of hits and obscurities from Cooke's short but productive career.
Here are Percy Sledge (You Send Me), Otis Redding (Shake), Bobby Womack (I'm Gonna Forget About You), Eddie Floyd (Bring It On Home To Me), the Soul Stirrers in which he was a member and who who were signed to his SAR label (That's Heaven To Me), RB Greaves (Cupid) . . .
Also here are Little Anthony and the Imperials, Johnny Nash (Wonderful World of course), Brenton Wood (A Change is Gonna Come), Lou Rawls, Aretha Franklin, the Supremes, Sam and Dave ...
All artists you'd be happy to hear anyway, but more so here on this great soul-pop material.
Even so, there are real surprises . . . like Mel Carter whose version of When a Boy Falls in Love (a lyrically dense song that few would dare attempt) and -- because I'd never heard the name before -- I presumed the singer was woman, a soft and smoky style that was redolent of a polite Nina Simone with an orchestrated arrangement by Burt Bacharach.
It's a beautiful song . . . and Mel Carter was a 20-year old guy from Cincinnati, the song with an arrangement Joe Hooven.
Listen for yourself.
Lovely collection of songs by one of the greats, by many greats.
Check out the first part of the doco below.