Graham Reid | | <1 min read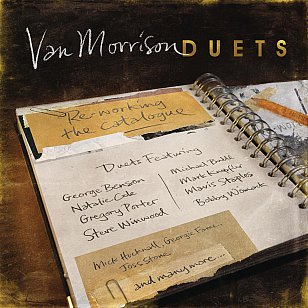 Duet albums are often the last refuge of senior citizen scoundrels, the deceased (current artists singing along with a dead hero's classics) or phoned-in studio constructions.
In his defense Morrison – senior at 69 – has a history of duets and collaborations, so this exploration of mostly lesser-known songs from his extensive catalogue is not career desperation.
Especially since recent albums (Keep It Simple in '08, Born to Sing: No Plan B three years ago) have been excellent, although some distance from his classic, late Sixties style.
So with Bobby Womack, Mavis Staples, George Benson, the roguish P.J. Proby (on the slippery Whatever Happened to P.J. Proby), jazz star Gregory Porter and others – all but Michael Buble and Stevie Winwood actually in the studio for quick takes – we find Van at ease among equals who empathise with the soulful blues and jazz close to his heart.
Chanteuse Clare Teal overplays the sweetness against his yearning ache on Carrying A Torch, the more jazzy styles perhaps won't appeal to some and the lack of familiar material might work against it, here's Van doing it his way again, sounding strong and (despite reservations about duet albums) much of this actually works