Graham Reid | | 2 min read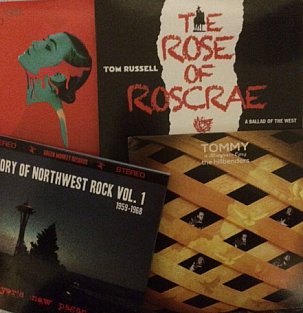 With so many CDs commanding and demanding attention Elsewhere will run this occasional column which scoops up releases by international artists, in much the same way as our SHORT CUTS column picks up New Zealand artists.
Comments will be brief.
Nadine Shah; Fast Food (Apollo/Southbound): Britain seems awash with talented women singers but some appear to get better coverage (Graham Norton's show) than others. On this, her second album, Shah confirms her dramatic pop-rock voice, a feel for conveying anger and heartbreak and a sure sense of a pop structure. She's serious -- her debut was about the deaths of two young male friends who committed suicide, she speaks about mental illness -- and has invited comparisons with PJ Harvey, although equally you could add in Siouxsie Sioux and Pauline Murray, with a splattering of early Echo and the Bunnymen/Teardrops Explode. All good company. Impressive.
Tom Russell: The Rose of Roscrae, A Ballad of the West (Proper/Southbound): Elsewhere would hope its readers were familiar with the great poet, songwriter, storyteller Tom Russell whose work goes beyond the boundaries of Americana and into meditations on existence, sometimes with an edge of flint but bone-dry humour. He is one of the great American writers and his work has never lacked depth or ambition . . . but the sheer scope of this double album which sounds one part horse opera and another theatre production sometimes defeats him. With an impressive cast (Jimmie Dale Gilmore, Joe Ely, Augie Myers, Jimmy LaFave and many more, some like Johnny Cash, Walt Whitman and Leadbelly woven in from beyond the grave) we have the story of a philosopher Ireland-born outlaw escape the noose and go on the run. So there's sentimentality about Ireland and the love he left behind, the edge of the West, the destruction of buffalo and Indian, holy men going to hell and outlaws who are good men when they are sober, quotes from pioneers and pilgrims, contemporary references (Guy Clark and Dan Penn are desperados waiting for a train) . . . It is an exceptional achievement, lyrically compressed and often compelling (Russell has a voice which is always that), but the sentimentality sometimes gets over-written and every now and again you can see the melodrama acted out badly on stage. That said, it is really quite something -- great voices, blunt and brilliant songs -- very well worth investigating. And you'd maybe love to see the film of this one, directed by Paul Thomas Anderson or Paul (In the Valley of Elah) Haggis. For further historical information and lyrics see fronterarecords.com. This completes Russell's Americana Folk trilogy.
The Hillbenders: Tommy, A Bluegrass Opry (Compass/Southbound): If Pete Townshend can inflict his orchestral version of Quadrophenia on us then I guess we can accept there should be a bluegrass version of Tommy somewhere in the world. The Hillbenders play a very straight banjo/mandolin to the Who's original so this isn't any satirical or silly treatment . . . which does rather make you wonder what the point is. It is exactly what is, a faithful bluegrass version of Tommy. It's actually very good, but the question remains: Why?
Tom Dyer's New Pagan Gods; History of Northwest Rock Vol 1 1959 - 1968: And more covers-cum-tribute. Anyone who has heard or read about the history of the rock, pop, soul and beyond out of the Pacific Northwest is impressed: the Sonics, the Kingsmen (Louie Louie), Paul Revere and the Raiders . . . Here Tom Dyer of Seattle's prolific Green Monkey label (which we have mentioned often) hooks up with fellow travellers for often faithful, frequently enjoyable, always play-loud covers of the Sonics' The Witch and You Got Your Head on Backwards, the Ventures' Walk Don't Run, the incredibly obscure Tiny Tony and the Statics (whose original I Wanna Hold Your Hand came out a year before the Beatles' song with a similar title), Paul Revere's classics Hungry and Just Like Me, the Fleetwoods' Come Softly To Me and more. Louie Louie among them. With pointed liner notes (Dyer knew some of these characters or has a story to place them in context) this is just a whole bunch of fun. You still need to hear some of these originals of course, but these are delivered in the enthusiastic spirit of the Northwest garageband ethic.