Graham Reid | | 6 min read
In Seattle's Experience Music Project – a music and sci-fi museum funded by Microsoft co-founder Paul Allen who is a massive Hendrix fan – there is, aside from a breathtaking Hendrix display of course, a large section devoted to the music which roared out of the Pacific Northwest region from the late Fifties and early Sixties.
Bands like the Kingsmen (with Louie Louie), the Frantics, the Wailers, the Counts, Paul Revere and the Raiders and others were the godfathers of a sound in the Sixties which in turn gave rise to local punk movements, grunge and even the likes of Sleater-Kinney and Modest Mouse.
In the early Sixties, the Pacific Northwest had a raw and ragged sound, and slap in the middle were the Sonics out of Tacoma, Washington whose songs The Witch, Strychnine and Psycho made them garageband legends.
Their first two albums, Here Are the Sonics and Boom, captured their earthiness on the cheapest equipment imaginable, but that seemed appropriate.
It was all over in '67 however when they went to LA to record what became their Introducing the Sonics album, which was intended to take them onto the national stage. But it barely sold. Singer-guitarist Gerry Roslie quit and the others went their own ways.
There was a brief reunion in '72 and another 35 years later in New York. Each time they were hailed as pioneers and since then they picked up gigs in Europe, at Ray Davies Meltdown in London in 2011. . . and now in New Zealand for a show at the Kings Arms on April 18.
Roslie – who has lived in Tacoma all his life aside from that brief time in LA – is a survivor. He has most recently survived major heart surgery but, with the re-formed Sonic, is also surviving out there on the road again. And loving it.
He's also genuinely surprised by the attention from as far away as New Zealand.
You've never been to this part of the world of course.
No. We were surprised to go to Europe. (laughs) I never thought I'd be going there!
It seems like there are a lot of Sonics reissues out there and there has been a great surge of interest in all that early Sixties garageband rock. I've been to the EMP museum in Seattle and seen all the stuff about rock out of the Pacific Northwest and great bands like Paul Revere and yourself. Do you have a theory why all that garageband rock started there in the early Sixties?
A lot of it was because their parents wouldn't let them play in the living room and everyone had to go to basements and garages and you are making a godawful racket when you are young and don't know how to play very good.
Was there a sense of cultural isolation because you were so far away from New York and LA?
Yeah there really was. It was like we were out in the Gobi Desert back then. Nobody, hardly nobody came from here that had made it. But we have had some big people come out of here later.
In New Zealand in the Eighties there was a label called Flying Nun and they all came of out Dunedin which is very southern city, close to Antarctica actually. My theory is that they were all stuck inside because of the weather so formed bands. You think that similar weather up in your area perhaps was a factor?
Oh yeah, it really is because you can't go outside. I'm looking outside now and it's raining and cold and it snowed the other day. It does that for five or six months, and sometimes nine months, I swear. When the sun shines it's beautiful but that doesn't happen enough.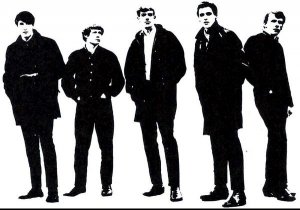 When you were growing up, what sort of music were you hearing? Because in, say 1964, a lot of the bands I think of as British garageband – like the Downliners Sect and even the young Stones – weren't even doing that at the time. What were you hearing?
I was listening to . . . Well, England came into play with the Beatles and a lot of groups changed over and tried to sound like the Beatles. We didn't because whenever we tried doing something pretty it ended up being rough. It always turns out rough.
I'm told The Witch single wasn't even played on your local radio station KJR during the day but it went to the top of their charts and they didn't acknowledge.
The story I get, and I have somewhere the newspaper clipping, is we were told our song was number two for about three weeks because of Petula Clark's Downtown at number one. One of the disc jockeys told me that we were actually number one but they couldn't put us there because then they'd have to play us. Business is business I guess and whoever has got the most money wins.
People like me could get nostalgic about what guys like you were doing, but let's talk about 1964 – '67. Do you look back with fondness or was it just a lot of hard work and no money?
When I look back I just remember we were so young, around 19, and everybody's lived a life since then, marriages, divorces and deaths, everything. When we get together sometimes and just talk we get a kick out of the some of the goofy things we did.
You surprise yourself you were those people?
Some of the stuff, yeah. I remember driving between here and Spokane in a Cadillac and I looked down and we were going 115mph! But you are a stupid kid and it seemed fun. But we could have got hurt.
Are you living off the royalties of The Witch?
(Laughs) I get royalties but I had a couple of businesses. My last one was asphalt paving and I had my own equipment and did that for 15 years. Then my health was damaged. It was nerve-wracking and I had to get out of it. It was hard work and mental stress.
But the band gets back together. Are you surprised by the on-going interest?
Yeah, this is the big one. I quit in '67 and in '72 we joined a bunch of Northwest bands and just did three songs, and other than that I can't remember that we played together for 40 years.
So who is going to be in the band when you come here?
[Original members] Rob Lind and Larry Parypa and two guys who are real big Sonics fans, the drummer has played with lots of different groups. He played with Paul Revere and the Raiders and our bass player has played with the Kingsmen, you know Louie Louie. So they know what they are doing.
So what's the drummer's name?
Ahh. Oh, you caught me off-guard. What is his name? This is embarrassing because I've played with him for about four years. The bass player is Freddie Dennis . . . and . . . I'll be darned, the bassist is . . .
Ricky Lynn Johnson?
I'll be darned, that's him. (Laughs)
There is a band here called Cut Of Your Hands and they have played The Witch live. Young bands do look to you guys because of the rawness of the sound. That seems to have come back.
Yeah, a big surprise.
There's an authenticity about your sound.
Yeah, to them what we do also sounds like fun rather than talking about death and all that stuff . . ., although we are talking about witch and devils and psychos. But it wasn't depressing.
I also think the screaming had a lot to do with it. A lot of people don't like screaming but the ones that do really do like it. I think also the songs being about witches and strychnine and psychos . . . that was so different for the time. That was an attraction too.
Is that what made you give up in '67 when you went to LA to record Introducing the Sonics? At that time everything was going very hippie with long songs, garageband rock was on its way out. Did you sense that?
I think the last album we didn't get much cooperation from the engineers and they were used to doing more mellow music, not rock like we did. They went, 'Holy crap, turn it down'. Larry said, 'I have to play it that loud to get the sound out of my amp' and they said, 'Don't worry about that, we'll take care of that back here in the booth'. But we were thinking, 'How do you know what we want?'
It was ridiculous and that was a bummer and we wanted to do what we wanted and not pretend we were somebody else.
And when you play live today you still sound the same you think?
Yeah, we try and do the stuff pretty close as possible without copying it too much. We do the classics the way we did them because that's what people want to hear and that's what people know us for.
I'm glad to see Paul McCartney, the Rolling Stones and Ray Davies still doing it. A lot of people went off and pumped gas and flipped burgers but then thought, 'Wait a minute, I had the most fun in my life playing music, I better get back to that.'
And that's how you feel?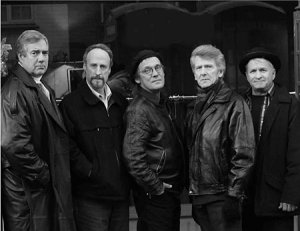 It's a lot of fun but what's spooky is the crowd looks exactly the same as when I was 19. (laughs) I'm serious, you look out and think, 'Good God, these are the same people and the same age when we were doing it 40 years ago'.
Here we are, a bunch of senior citizens and here are these kids jumping up and down and singing with us and getting on stage with us and doing their mosh pits. I really love seeing it.
When we did the first one after 40 years in New York, we didn't know what to expect. We thought thought we might get tomatoes thrown at us. When you get older you think the best part of your life is over and it's time to start thinking about wheelchairs.
But there's still a little life in the old boy.
For more raw garageband rock try this.