Graham Reid | | <1 min read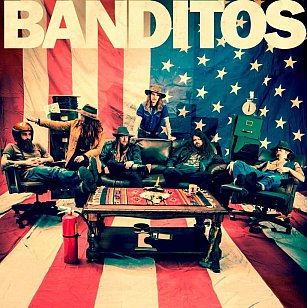 They might be based in Nashville but this hairy, post-punk six-piece from Alabama prove you can take bar-bands out of their natural home but they'll always be back-sliders.
With electric guitars, two gutsy singers (male and female), flat-tack banjo and a sawdust floor attitude, the appropriately named Banditos put their fingers in the wall socket for most of the 12 originals on this debut.
Even when they pull back (the slow-boiling Golden Grease) you know fury will follow because they have dirty tyres, whisky in their veins and probably groups like Drive-By Truckers, the Pixies, classic early Sixties blues bands from Chicago and Janis Joplin on repeat-play in the flatbed.
That's not to say they fall into cliché, because this — recorded in the same studio as Alabama Shakes, Hurray for the Riff Raff and outsider Benjamin Booker – also folds in great songs (the soul-screaming heart-aching No Good fronted by Mary Beth Richardson, the jazz-noir Ain't It Hard).
But they mostly rip through retro-country rock'n'roll (Still Sober After All These Beers, Cry Baby Cry), stoner downer-country of Blue Mosey #2) and Mary Beth explores a blues hangover on the melancholy Old Ways.
Punk-country blues-rock'n'roll to be played loud and shamelessly enjoyed often.
Further proof that subtlety is much over-rated.