Graham Reid | | 2 min read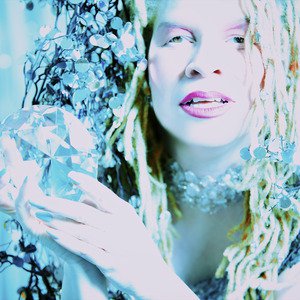 Just as opera has changed -- or at least some of its creators like John Adams, Philip Glass and others who have kept up with contemporary politics and social change -- so has art music, as academics like to call it.
It has shifted from the sometimes rare air of the recital hall into clubs and bars.
Mem Nahadr -- a black albino once from Washington with a vocal range which sounds to encompass at least three octaves -- is one of those diva-outsiders who is post-opera, post-art music, post-feminism and post-just about everything else.
She is most definitely post-Aretha/post-Ella because on this all-encompassing work (subtitled An Opera of Reflection) she explores soul, funk and deeply moving jazz . . . but also takes advantage of the post-Laurie Anderson shapeshifting which new technology allows.
And as with many Anderson albums, this one is actually just part of the larger production. . . so we're allowed to be a bit in the dark about what the images and on-stage presence might be.
But "powerful" will be the educated guess after deep immersion in these 75 minutes which could probably only have come out of a New York (she has a creative team and does the fashion thing) where all schools of styles cross over.
So here be Chaka Khan/art music, post-Aretha soul, ambient passages, feminist affirmation ("Say what you will but I'll go on, sing my song any way I choose " in the swelling but catchy soul-pop of Panacea) and also quite a bit of techno-funk soul.
(Aw, c'mon give me that one! It's a genre . . . just listen to the nine minute-plus Grey Aria here.)
To be perfectly honest I have absolutely no idea what the unifying thread in this opera is supposed to be.
She -- or her PR/bio person -- says something about "self-similarity", "super positioning" and the function of "recognition and reconciliation inherent in the simple repeating pattern" . . . but I take that to be typical art-speak bullshit.
And as we know, bullshit baffles brains. (Or tries to, until it is called to account and then it evaporates like mist.)
There's also something about fractals, which I think utterly appropriate because this is music refracted through various prisms: the soulful On My Merry Way, the staccato punch-funk of Crystal Trails which would be right at home in clubland and ripe for a remix, the quieter ballad Gone . . . and more.
I'd never heard of Mem Nahadr (who prefers to be known as just "M" sometimes, another pointless -- but useful in NYC, I guess -- affectation) but this extraordinary, uncategorisable, very different and always interesting album has piqued my interest in her previous work.
And I hope when the Lotto numbers tumble my way and I'm back in NYC that she will be performing/bewildering/entertaining. I'd go in a minute, in a New York minute in fact.
I suspect it would be a performance you'd remember to the end of your brief days.
I commend this to those of you with time to listen to a serious and seriously different -- if often challenging - artist who can also nail down some not-art-music pop (the dramatic Black Whole).
Check her out here.