Graham Reid | | <1 min read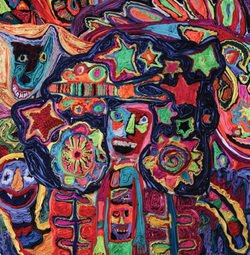 Three years ago the Flying Nun compilation Time To Go reminded us of the downer psych-rock out of the South Island in the Eighties with familiar names like the Clean, Chills and Puddle alongside the barely-recalled Wrecks Small Speakers and the Victor Dimisich Band.
This three-piece from Port Chalmers-Adjacent – who run the local venue Chick's and here include the Clean's David Kilgour on two songs — explore similar territory in the 21st century. And not much has changed.
So here be gloriously under-fi drone-scuzz psyche-rock (the shoe-gaze Make It Through), a coming-down-again instrumental Whareakeake (with mournful violin), widescreen-Clean (Should Be Better, Coming Back ) and ear-damaging rock which says "Never mind the quality, come feel the noise'n'feedback" (Dreaming to Keep Awake).
To Shifting Sands' credit if not a lot screams originality, they do know the merit of economy (10 songs in 40 minutes suits my concentration span).
The appropriate closer Radio Silence with Kilgour is a lovely astral psyche-dreamscape.
If this astutely programmed trip came down the wire into your private radio station and you were in a cosmic mood you'd be very receptive.
If you . . . . umm. . . . get my . . . umm . . . drift.