Graham Reid | | 1 min read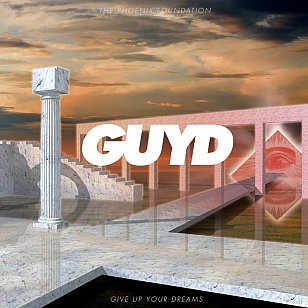 Given the implosion of individual talent the Phoenix Foundation manages to contain, it's hardly a surprise that every now and again they do something which discreetly hints at, "Hope you like our new direction".
After the widescreen and sometimes epic nature of their previous double-disc Fandango followed by the more economic and rhythmic-directed EP Tom's Lunch last year you might have suspected something was coming which would keep the project fresh for them (they've been together well over a decade) and to ensure their audience's loyalty remained piqued.
This is it, a pop album with its ears on the wider world where past and present co-exist, its feet tapping if not heading to the carpet for a bit of a shuffle and its consciousness still pretty spaced-out but wide awake.
It is clever, crafted and made as much for summer days in the backyard as the headphones in these colder times.
Sometimes you think they are having fun with you: Jason at the midpoint is late Sixties psych-guitar jangle with an almost heroic Eighties synth-pop reach by the end, a mood picked up by Celestial Bodies which follows, one of those glacially cool synth songs which comes with engaged, soulful vocals over the top of its bubbling bass and electro-sheen.
Elsewhere, Playing Dead has a minimalist figure simmering beneath it (I note on their Spotify playlist they have a Steve Reich track and Talking Heads' Born Under Punches) and their terrific Bob Lennon John Dylan from the EP gets a welcome return bout.
Sunbed reaches to the warm glow of the tropics but here, as in most places, the stacked up vocal parts and Cinerama synths support the ambitious breadth of the sound.
The wry title track addresses the journey they've been on, often so far home and with some self-doubt ("Now we're older, are we even part of the scene?") but . . .
As at all the right points here they shove their tongue in their cheek ("I've been giving up on all my aspirations, thinking' 'bout gettin' a job . . .") and you can't help but smile along with them. Because the chorus is such a singalong you can't wait to be in the crowd when everyone bellows it back at them.
Then they subvert the whole thing again with the closer Myth, more shimmer'n'motoring synth with vocals from above the clouds . . . and the dream goes on.
Terrific album. Clever too, but without being clever-clogs.
Incidentally this new album comes as a limited edition record here on gold vinyl. Hmm, new gold Dreams? Is that a joke for those of us with simple minds?