Graham Reid | | 2 min read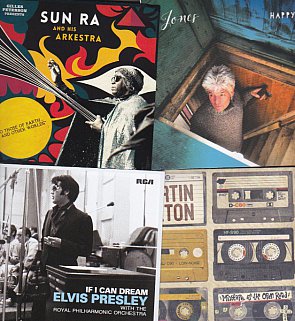 With so many CDs commanding and demanding attention Elsewhere will run this occasional column which scoops up releases by international artists, in much the same way as our SHORT CUTS column picks up New Zealand artists.
Comments will be brief.
Elvis Presley with the Royal Philharmonic Orchestra; If I Can Dream (RCA): Presley's reputation was tarnished so badly by cheap releases and shoddy collections in his lifetime that you'd think nothing more could damage his legacy. Then came that truly horrible thing Viva Elvis which had something to do with a Cirque du Soleil show in Vegas. So your expectations are naturally low when faced with this, orchestrated versions of songs using the original masters of Elvis and some of the original backing players. And yet it isn't bad at all (damn good in places) mainly because Elvis frequently worked with large ensembles so could project, and also because the arrangements here by various professions are subtle and supportive when need be (Love Me Tender) or punchy (Burning Love, the eerily good Streamroller Blues). The duet with Michael Buble on Fever doesn't add much to the sum of human knowledge, but the King survives the orchestration on material as diverse as the reverentially arranged Bridge Over Troubled Waters, You've Lost The Lovin' Feeling, the American Trilogy and of course How Great Thou Art and If I Can Dream. Not essential but very interesting and empathetic settings for that great voice.
Martin Sexton; Mixtape of the Open Road (Good Karma/Southbound): American singer-songwriter Sexton is something of country/blues/old time folk music institution. Sometimes he's a more dustblown and battered James Taylor, at others a roadhouse rocker doing an intimate afternoon session with his band, and then he's a finger-picker on the back porch entertaining with heartfelt stories of life on the road and family. And because of that genre-hopping and the ease of his delivery he certainly takes you for an interesting ride on the open road. If that's where you are headed, even if it actually means sitting on the couch, this is a very good traveling companion-cum-personal mixtape.
Give It Up by Martin Sexton
Sun Ra and His Arkestra; To Those of Earth and Other Worlds (Strut/Southbound): The late and very great Sun Ra is -- because of the sheer breadth and depth of his output -- the gift that truly goes on giving. This non-chronological but well-programmed double disc compilation by Gilles Peterson picks up Ra's astral persona and music which encompassed big band workouts (he was more Ellington than he was prog-rock should you be confused), Moog soloing, sounds referenced in Latin America and Africa, and some nods to the improv sounds of the Art Ensemble of Chicago and the like. But, and here's the hook, these come in just short, bite-sized chunks here. In fact here be 34 pieces which invite you in to his world and, because of the shapeshifting nature of the discs, happily keep you there for blues, ballads, chants, Neptune off the starboard bow . . . If the man has always been mentioned in your presence but you've been too nervous to ask then this is most definitely for you. Terrific.
Space Loneliness by Sun Ra
Jones; Happy Blue (Meme): Elsewhere has frequently introduced Trevor Jones (formerly of Britain's Miracle Mile with Marcus Cliffe who here again is his co-producer/arranger) for his thoughtful and poetic albums. On a previous occasion we suggested Jones might be the kind of guy in a wicker chair in his modern home overlooking the Med with a glass of good wine and a book of Romantic poetry at hand. He conveys that kind of thoughtful, physically relaxed if intellectually curious, mood. Well, in the gatefold cover of this typically adult, probing, melodic and elegantly lyrical album he is a weatherbeaten room, a book of what looks to be his own artwork on the window ledge and outside is the cool sea. We were close. Jones again delivers beautifully intimate ballads (Lovers Never Tell a standout) and is supported by acoustic bass, piano, Hammond, pedal steel, saxophones, clarinet and ukelele, all gently deployed in the service of these reflective, sometimes nostalgic songs which reflect on days gone by. The title says it: happy blue. Pour a decent Beaujolais and sink into this. Miracle Mile and Jones albums are available from their website here.
Misbegotten Moon by Jones
.
.