Graham Reid | | 1 min read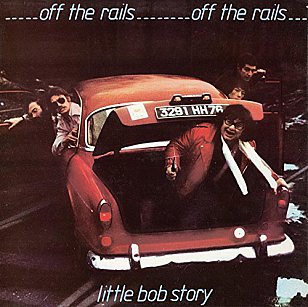 Many decades ago a friend was in London just as punk was gripping the city, but also while there were still great pub rock bands coming through and even the first song from Dire Straits.
He would send me tapes (one had Sultans of Swing on it and I went to their local label and suggested they release it, they declined until . . .) and that was when I first heard Patti Smith's Piss Factory, the Runaways' Cherry Bomb and Little Bob Story's thrilling version of the Small Faces' All or Nothing.
It would be another year or so before I heard any more by Bob but he seemed to channel the spirits of garageband Sixties, British punk, staggering Stones and soulful rock'n'roll . . . pretty damn good for a guy from a country not exactly renown for its rock'n'roll credentials.
Yes, Little Bob Storey was French but his band was as fired up as the Stooges and MC5, and Bob was a desperate-sounding frontman. They shared bills with the Damned, Eddie and the Hot Rods, Dr Feelgood and others, toured the UK playing Fifties rock'n'roll for students and Teddy Boys, impressed the as yet-unformed Pistols and Clash as well as Chrissie Hynde, played with Motorhead . . .
They wrote strong originals but also excelled on well-chosen covers (Tobacco Road, Lucille, their first single was a Fifties rock'n'roll makeover Don't Let Me Be Misunderstood) and generally gave punk-era rock from the Continent a good name (only to be undone by Belgium's Plastic Bertrand perhaps).
They always has a smidgen of guitar heroics too (that's what happens when you have "Serge Hendrix" in your line-up) and that creeps in here on Crazy.
This is their second album Livin' in the Fast Line -- which later came out as Off the Rails (without All or Nothing) -- and with five live, previously unissued songs, among them a ragged version of All or Nothing (not quite as good as the absent studio version however, which you can find on Spotify).
If you get those musical reference points mentioned above but have never heard of Little Bob Story then this this one -- at full volume -- is a journey back in time, not just to the punk era but to classic pub rock and a noise coming out of a garage in Le Havre.