Graham Reid | | 1 min read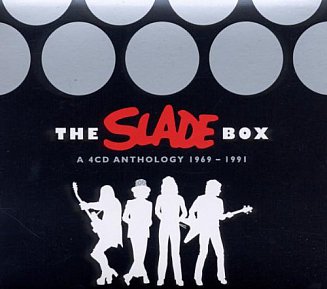 In 1977 Slade released the album Whatever Happened to Slade.
And it was a fair enough question.
Their version of club-shaking and stomping glam rock, dirty arse rock'n'roll and scuffed-bellbottom pop had been wiped away by inconsiderate punk, probably because their clothes (top hats, braces), singer Noddy Holder's mutton-chop sideboards and song titles designed to bait English teachers (Mama Weer All Crazee Now, Look Wot You Done) suddenly seemed so yesteryear.
However they should have been embraced by punks because Slade were tough, working class lads who rocked out in their own rough-hewn way. They were reductive rock'n'roll with often ferocious anger'n'energy of the kind most young punk band in that period could only aspire to.
And live they were as thrilling as any band on the planet at the time: check their version of Born to be Wild posted here.
You surely would have wanted to be in the room when that came down, right?
Yep, me too.
The evidence of Slade's somewhat overlooked rock'n'roll genius is on this well essayed (liner notes by scene-maker and press agent Keith Altham), four CD box set.
And it proves that while their studio songs were exciting, the band were much more than radio pop-pleasers . . . because their live, gut-bucket pub-rock was as menacingly exciting and just as grubby as Dr Feelgood (louder in fact) -- and more so than any other glitter-kid glam-rockers of their day.
Slade were one of the great British rock'n'roll bands, and only a deaf fool would say otherwise and dismiss them because of attention-grabbing haircuts (like that hadn't happened before), trousers (uh-hu) and such.
So here are 84 songs, some previously unreleased . . . but which do go rather too far into their post-punk decline and brief revival.
However at their best in the early Seventies, Slade applied a blowtorch to songs guaranteed to get your platform soles stomping.
Lotta Slade here, but an undineyebbly thuru compilashun.