Graham Reid | | 2 min read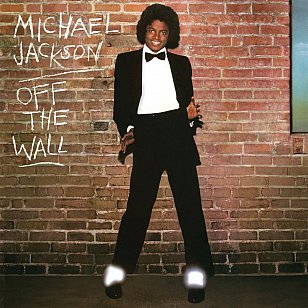 Yes agreed, Thriller three years later was bigger and better, but Jackson's '79 Off the Wall is historically more important because it was such a pop/r'n'b/disco-cum-funk game-changer.
He put his youth behind him -- he was 20 when he started recording -- and stepped out as a young adult and contemporary artist. With producer Quincy Jones, he was on his way to becoming the self-styled King of Pop with original songs (Don't Stop Till You Get Enough) and material by Britain's Rod Temperton (Rock With You, the title track), Paul McCartney (the ballad Girlfriend) and Stevie Wonder (I Can't Help It).
The first side is dance-music genius distilled, starting with Don't Stop Till You Get Enough. The song is coloured at the top end by archetypal disco strings but driven at the bottom by flickering guitar parts which cleverly anticipate and echo the title-cum-hook. Louis Johnson's bass is minimal but, like everyone of the track, right in the pocket. The lengthy coda where Jackson fades back for 30 seconds is a sampler's treasure chest of funk, disco, riffery and percussion (the latter from Paulinho De Costa).
Temperton's terrific ballad Rock With You put Jackson at the midpoint of the Motown of his Jackson Five youth, soul-funk and sophisticated, adult disco of the period (as epitomised by the Bee Gees, the Trammps etc).
And there are guitarists in the world who would pay with their souls to have done the punctuations on Jackson's taut Working Day and Night which follows. It is so minimal, so sharp and so right.
There was an astonishing implosion of studio and jazz talent on this album: do a Google search on Phil Upchurch, Greg Philinanges, Larry Williams, Wah Wah Watson, George Duke, Steve Porcaro, David Foster, Patti Austin, Grammy-grabber Johnny Mandel (string arrangements on the ballads on side two) . . . .
When Quincy got out his contact book . . .
As with Rod Stewart's Atlantic Crossing of a few years previous, Off the Wall was the artist's break with his past, and each side of the album presented different musical faces.
Jackson gets away the danceable and slightrly risque title track at the start of the second side (in the opening passages you can, in retrospect, hear Thriller coming) but thereafter he is the balladeer on McCartney's Girlfriend (which the 36-year old Macca had recorded on London Town the previous year to lesser effect, it's a young person's song).
And then of course the exceptional She's Out of My Life (by Tom Bahler) which is a very adult song -- and you wished Sinatra had sung it in the early Sixties when he was struggling to get free of his obsession with his former wife Ava Gardner. It might be the only song on the album the young Jackson is ill-equipped emotionally to sing . . . but he respects the lyric and delivers it beautifully.
Oddly enough the weakest point on side two is the Stevie Wonder/Susaye Greene co-write I Can't Help It which is bereft of any interesting melody and inherent charm so Jackson, the band and Mandel's strings are obliged to do the lifting to get it briefly airborne.
Later there's the Carole Bayer Sager/David Foster ballad of trepidation, It's the falling in Love: "No matter how it starts, it ends the same . . . someone's always trading in the passion for that taste of pain". It's adult but delivered as upbeat dance-pop with horns and funky bass.
And bookending the album is Temperton's Burn This Disco Down, which flicks you right back to the first track on side one in its disco-funk . . . "Groove all night, keep the boogie alright."
Off the Wall is an extraordinary album of shamelessly enjoyable pop now given reissue treatment with a DVD doco by Spike Lee – using rare archival footage – tracing Jackson's path from Motown boy-band Jackson Five to a singular solo artist.
The rise and coronation of a pop genius.
There is more about Michael Jackson at Elsewhere starting here.