Graham Reid | | 2 min read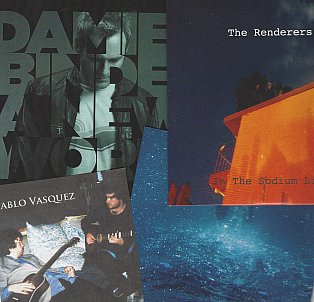 Facing down an avalanche of releases, requests for coverage, the occasional demand that we be interested in their new album (sometimes with that absurd comment "but don't write about it if you don't like it") and so on, Elsewhere will every now and again do a quick sweep like this, in the same way it does IN BRIEF about international releases.
Comments will be brief.
Damien Binder; A New World (damienbinder.com): An expat like so many, Damien Binder is one of those smart songwriters which Elsewhere has an affection for because he walks a pleasing line between the singer-songwriter genre and a smattering of power pop. He writes songs which in a better world would find themselves all over radio. These 10 songs (at an LP-length 46 minutes) were recorded during 2014-15 with band members Bob Shepheard (bass. Keys) and Michael Carpenter (ditto) handling production and being funded through Pozible. As always Binder delivers thoughtful pop with touches of guitar jangle (Breaking Beyond Me) and some downbeat ballads (the lovely Ships Sail Out), all of which are sensibly and sensitively arranged to keep him front'n'centre. If nothing immediately leaps out, open ears at radio would pick up It's You I Came Back For and the Eighties pop gestures of Over.
Evergreen
Pablo Vasquez; Pablo Vasquez (bandcamp): We admit being intrigued by this, perhaps more because of its source than the emotional depth of these acoustic guitar pieces which allude to the great Spanish classical guitar tradition. The players here are Elroy Finn and Jolyon Mulholland (aka Mulholland) whose pedigree might fairly be described as alt.rock or something along the indie axis. But here we have a self-penned adagio, a too-brief but very pretty Crying Suite (just three finely focused minutes), the evocative El Numero Cinco (the Spanish masters are in the house everywhere) and the exotic Arabia. I'm sure many would like this to be terrible because it has all the hallmarks of a vanity project and indulgence, but what's life without vanity and indulgence? Segovia, Bream et al are not threatened, but these two young players have more than merely acquitted themselves . . . and may just introduce a new audience to this rewarding genre. A fair hearing is deserved, and rewarding.
Finale
The Renderers; The Sodium Light (BaDaBing/Rhythmethod): The Renderers – the vehicle for Brian and Maryrose Crook – once briefly enjoyed the reputation as being the only country act on Flying Nun, a short-lived description as they turned increasingly towards the dark side and more Gothic (not Goth) sound and encompassed the mysterious. Now based in the US, in the arid but evocative landscape that is Joshua Tree, and here with very disconcerting strings and sonics, they emerge with a poetically integrated, almost tone-poem collection where the focus is on nuance (the eerie Remembering Room), slow knife-twisting quasi-narrative (the seven minutes-plus Mr Pulse which takes its lead from Eighties Tom Waits and the atmosphere of films like Night of the Hunter and Eraserhead) and Maryrose's bleak folk-cum-cabaret vocals. Seriously good. Play with the lights off. Or on.
Hiding
The Leers; Are You Curious? (Southbound): On the basis of the opener here, the Auckland-based four-piece Leers – produced by former-Check Sven Petterson now of Racing – fire off this ambitious debut album from somewhere between urgent indie.rock and tough psyche-rock, and it's kinda cool. But what follows often loses such a sightline and earnest staccato pop with an ear on the Eighties seems a default position. They can deliver well enough in that (Fool really nails it in an Albarn-like way, Honest deserves a wide hearing) but often they sound like a band with ambition (the astral-inclined Instrumental, a simple but effective ballad in Waste) which they pull back from. For a debut this stakes out an impressive ground in which they are seriously accomplished, so you look forward to seeing where they go from here.