Graham Reid | | 2 min read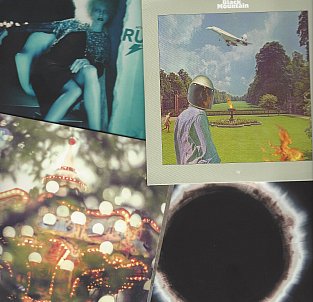 With so many CDs commanding and demanding attention Elsewhere will run this occasional column which scoops up releases by international artists, in much the same way as our SHORT CUTS column picks up New Zealand artists.
Comments will be brief.
Haelos; Full Circle (Matador): In which this British electronica trio step lightly between British trip-hop, Pet Shop Boys pop and emotionally detached dancefloor manoeuvres where falsettos are meant to imply a soulfulness. But they aren't quite the Bee Gees. Oh, and it comes with samples (Zen philosopher Alan Watts up first). The breakdown interruptions into ambience or guitar passages mean this is more a listening experience than one for dancers. But when this aches – as it does effectively on Dust and Pale, for example – it transcends its influences to become something quite special. But never often enough.
Pale by Haelos
Black Mountain; IV (Jagjaguwar): As the Tea Party, Velvet Revolver and many others proved, every generation gets the post-Zepp/Sabbath/prog hard rock it deserves. Out of Vancouver, Black Mountain have won or been nominated for a number of Canadian music awards, and their stoner rock delivered with finger-bleeding guitar solos and sonic crunch undoubtedly has great appeal . . . unless you experienced or have heard their illustrious predecessors.
Their point of difference may be in having female singer Amber Webber alongside the men. She's excellent when let off the leash as on Florian Saucer Attack here which is real Janis/Slick stuff with a smattering of the great Genya Ravan, or even the vibrato thrill of David Surkamp in early Pavlov's Dog. Less successful on the toned-down folk-rock (Line Them Al Up). And perhaps there's some appeal in their trickles into non-noisy bits as when they move into earnest and somewhat pretentious space-rock (Defector) or embrace a little electronica (You Can Dream, Cemetery Bleeding). Or both (the wooden Constellations)
But . . . Many will have been here for the first deja-vu, or the second.
Occasionally "interesting" (a word which suspends judgement, right?) but hardly essential. "Big in Canada" is the new "big in Japan"?
Florian Saucer Attack by Black Mountain
Ken Matsutani; After the Rush (Captain Trip/Sarang Bang): Frankly this senior statesman of Japanese prog/cosmic rock band Marble Sheep was a real disappointment when they played in Auckland's Wine Cellar in 2012. Most of it was inane, propped up by short guitar solos and attractive young Japanese women. I left them – and the tiny audience – to it. Much of it sounded as ordinary as this album, actually.
Where once Matsutani was an inspired player, these days – on the evidence of that sole performance and these eight very lame songs -- he has decided to go the Clapton-route (little energy expended, pretending less is more). There's nothing here you haven't heard before, and in most instances much better. This sounds lazy and unlistenably dull, even when there seems to be an effort being made. Being from Japan -- and not even "big in Japan" -- makes it no more interesting.
One Two by Ken Matsutani
Hammock; Everything and Nothing (Southbound): The description "post-rock" has lost any value these days because (like "punk") it has been too liberally applied. So let's just say this widescreen instrumental duo of guitarists Andrew Thompson and Marc Byrd from Nashville get all the echoes and reverb and massive delays going and so, unsurprisingly – like the superior Explosions in the Sky – have had their work invited onto the closing credits in movies.
In that regard many of these 16 pieces across 77 minutes do sound like a calling card, but discrete pieces like the glistening and dynamically dramatic Glassy Blue (with similarly choral-like vocals) do stand out. They've played at art projects for Jonsi and Alex of Sigur Ros, so that helps locate them in a territory: credits rolling, white-wall gallery spaces . . . And their video for their Breathturn (a piece not included here, see below) made it to film festivals . . . for whom we should more correctly credit director David Altobelli. Right?
By my reckoning Hammock have released six albums and their drama, scale, impressionistic sound and passionate intensity with vocals just a part of the soundscape can be something quite special. Especially if you are looking for a sonic landscape for your film which adds aural allure but when turned down won't impose itself.
Marathon Boy by Hammock