Graham Reid | | 1 min read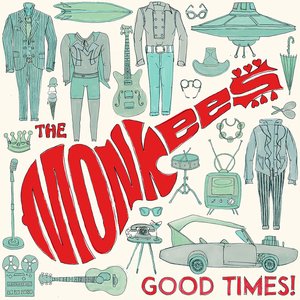 Half a century after they first appeared as a made-for-television pop band, the surviving Monkees (Mickey Dolenz, Mike Nesmith, Peter Tork) have reconvened to tie up some unfinished business and record new songs written for them by the likes of Noel Gallagher with Paul Weller, River Cuomo of Weezer and Andy Partridge (XTC).
Nesmith and Tork also wrote a song apiece, and Dolenz gets off a casual throwaway at the end with I Was There (And I'm Told I Had A Good Time).
Produced by Adam Schlesinger (Fountains of Wayne), these 13 songs leap across time. The pleasant Love to Love was written for the band in the Sixties by Neil Diamond – referencing Cherry Cherry a little in this treatment – and features the late Davy Jones beamed in from the demo; the enjoyable optimistic title track comes from a demo written by the late Harry Nilsson (although far from his greatest moment) who duets with Dolenz on it from beyond the grave; and the Boyce-Hart Whatever's Right is as pleasingly formulaic as many of their Sixties hits for the band and others.
But Nesmith brings no magic to a plodding treatment of Wasn't Born to Flow which falls well short of the Byrds' poetically psychedelic-folk version (heard in Easy Rider) and his original I Know What I Know isn't up to much, if anything.
Tork's Little Girl is a chintzy folksy piece of no fixed relevance.
The contemporary writers see the Monkees through a colourful pop kaleidoscope and go for the cheery end of their spectrum: Partridge's delightful You Bring the Summer is a breezy, handclap slice of shiny lightly psychedelic pop with backwards guitars (and a sentiment which sounds like Cliff Richard and the Shadows from '63 more than the Monkees); Cuomo also goes for a similarly picnic blanket-cum-happy days with She Makes Me Laugh; Schlesinger most effectively replicates the Monkees' McCartney-lite sound and period with Our Own World.
Gallagher and Weller nail the more musically baffling latter end of the Monkees career with their psyche-pop Birth of an Accidental Hipster given to Nesmith and Dolenz. It's even got phasing.
Nesmith brings something special to the thoughtfully adult ballad Me and Magdalena (written by Death Cab for Cutie's Ben Gibbard).
Those who admired the Monkees at the time always felt Nesmith was the musical pivot but mostly he is a disappointment here, and Dolenz is the most enthusiastic (as he always was).
Other than the somewhat un-Monkee Partridge song, it is that Nilsson-Dolenz opener and the Dolenz throwaway at the end which most suggest the Monkees' magic, because they don't take themselves too seriously.
Disappointingly uneven and just a curious footnote to an enjoyable pop career which ended in '68.
For more on the Monkees see here.