Graham Reid | | <1 min read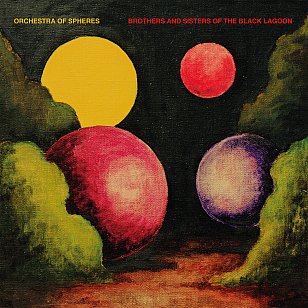 This quirky Wellington ensemble have been prolific on the recording front, toured extensively (China, Scandinavia, Europe and the US) and now find themselves on the estimable Fire Records out of the UK, the people behind excellent reissues like the Pere Ubu box sets and the complete JPSE, as well as the excellent new Chills album Silver Bullets.
Let it be said there are no planetary alignments between any of that music, and OofS sit in an even further-out orbit.
Previously their twitchy funk-lite sound brought to mind the Feelies and the B52s as reimagined through cheap electronica, and there was a scattering of Afrobeat and Asian sounds in the mix.
This time out their retro-psychedelica-cum-spacerock (with those other reference points largely intact, plus a bit more Krautrock motorik) sounds even more stateless and designed to function in clubs and on the festival circuit where the relentless grooves (and presumably their dress-up box stage attire) can get them some real traction.
But over the 11 songs there is frequently more surface than substance, and as before they remain weak in the vocal department (speak-chant is no substitute for actually singing over the duration) which means terrific pieces like the churning Anklung Song (an instrumental) and the more ambitiously psychedelic but toned down miniature Reel World are left to do the persuading.
There's an undeniable pool of talent at the core of Orchestra of Spheres but it seems to be taking a long time to distil it into convincing evidence across a whole album.
Patchy, again.