Graham Reid | | 3 min read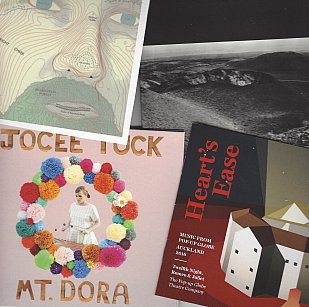 Facing down an avalanche of releases, requests for coverage, the occasional demand that we be interested in their new album (sometimes with that absurd comment "but don't write about it if you don't like it") and so on, Elsewhere will every now and again do a quick sweep like this, in the same way it does IN BRIEF about international releases.
Comments will be brief.
Lawrence Arabia, Absolute Truth (Flying Out): There's a lot of pop history distilled into the music on this album, but more of that in a moment. Here Arabia (aka James Milne) brings both happiness and ennui to this collection of songs written around the time he and his partner had their firstborn. And perhaps that event (and a different maturity now forced on him) has prompted these songs which take a sceptical but warm view of life, relationships, friendships (encapsulated in the phrase "sweet dissatisfaction"), aging (Brain Gym and What Became of That Angry Young Man), God, parents and more. Sometimes he tries to say to much, but he's always engaging and has something worth saying: "We were conceived in the back of a car, brought up in a bar, educated by TV . . ." he croons on O Heathcote.
But as to that sound of this: There is dream-pop (A Lake sound shaved off from Lennon's #9 Dream before going its own way), allusions to classic Fifties arrangements, the big sweep of Aztec Camera and Orange Juice over a popping McCartney-in-'65 bass line on Another Century (with a "shoo-be-doo-wop" part), what sounds like electric sitar (Brain Gym, with a pointed psyche-pop guitar solo) and more.
A real keeper with many layers.
The Old Dancefloor, by Lawrence Arabia
Jocee Tuck; Mt Dora (josietuck.com): Auckland singer-songwriter Tuck – an Auckland Uni music graduate who won their songwriter competition in 2009 – has appeared at Elsewhere previously, as one half of the quirky duo Bear Cat with Dan Trevarthen. Their Xiong Mao album – with a theme of pandas running throughout – was promising and just the right side of twee-pop. On this debut that quirkiness and twee component are reined back in service of delightful shapeshifting alt.folk pop (the repeat-play Secret's Safe), a large cast brings the songs to life with strings, horns, harp, accordion etc, and Tuck sings unusual stories and mildly disconcerting incidents brought to life with the fairytale colouring of her imagination (Armstretch of Blessing). As with LArabia above, this works on numerous musical levels too (almost minimalist repetition in places, a choir, inviting acoustic folk, cushions of horns and a choir . . .)
Perhaps a touch too long at 55 minutes (13 songs), but previously we said she was a talent worth watching out for, this vindicates that opinion.
Weep, by Jocee Tuck
A Dead Forest Index; In All That Drifts From Summit Down (Sargent House/Southbound): Although expat brothers Adam and Sam Sherry who are DFIndex currently live offshore, they recorded this moody collection at York Street Studios in Auckland. So we will claim them here. A previous EP was released on the Pop Noire label in the UK (the name of which adds a further clue to these contents) but Adam possesses a fine, expressive voice, a few songs edge close to Velvet Underground at their most melodic and understated, others come off like turned down ambient-folk. And although this can sometimes offer gloomy settings (yep, there's a cello), the vocals and poetics (Cast of Lines) elevate it above Kiwi miserablism. Grey skies, dark water and emptiness are all evoked but over the 13 pieces there is a coherence and integrated slideshow of imagery pushed into life by Sam Sherry's sometimes propulsive drumming (In Greyness The Water). Very interesting indeed, and an impressive debut.
Ringing Sidereal, by A Dead Forest Index
Various Artists; Heart's Ease (popupglobe): Although this collection will have most appeal to those who heard this music in the season at the Pop Up Globe theatre in Auckland earlier this year, this is far from "guess you had to be there". Because these melodies travel very well. Opening with an Elizabethan scene setting Overture, we are taken gently into this world courtesy of (mostly) short, stately folk-flavoured instrumentals. There's a R&J jig (mercifully brief at 90 seconds) and a longer one from TNight) and a few songs with lyrics by Bill Shakespeare (who was no slouch in the word department). Some are performed by the cast. Most of this music was written by Paul McLaney who has a real feel for what might presume to be the music of the period. And who's to say those guys back then didn't have a feel for a suggestion of reggae (Box Trees)?
Come Away Death