Graham Reid | | 3 min read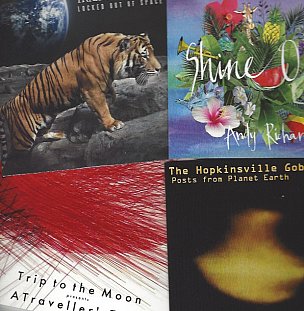 Facing down an avalanche of releases, requests for coverage, the occasional demand that we be interested in their new album (sometimes with that absurd comment "but don't write about it if you don't like it") and so on, Elsewhere will every now and again do a quick sweep like this, in the same way it does IN BRIEF about international releases.
Comments will be brief.
Trip to the Moon; A Traveller's Tale (Jazzscore/Southbound)
Multi-instrumentalist Trevor Reekie and keyboard player Tom Luvigson are the co-pilots on the long-running TTTM, but their voyages in the cosmos between jazz, electronica and ambient-fusion always carry a classy crew, in this instance longtime peers Greg Johnson (trumpet), Jim Langabeer (saxes) and Nigel Gavin (guitar).
At a guess that's close on a couple of centuries of playing experience in everything from big bands to synth-pop, avant-jazz to blues-funk. But the common ground here is that slippery, adventurous terrain which the music makes subtle and supple shifts of direction between genres.
The seven-minute title track squirrels its way between ambient-fusion until Langabeer takes a melodic line over stuttering guitar and then a hefty dollop of funk enters briefly before everything thins out again. It's a beguiling trip because – especially when the astral-ambient passages arrive at the ethereal midpoint – its direction is never quite clear, but it's all in the getting-there.
There's also a gorgeous exoticism at work here (the beautiful, hypnotic and barely there Indra's Pearl) alongside music which evokes the group's name (the gravity-defying opening passages of As Far As) and soundtracks for films not yet made (A Delightful Fiction, and Where Have I Been? which sounds ripe for a Scandi-noir blues thriller).
This is an instrumental album made, over three years, for the musicians' own pleasure in many ways . . . but it's our pleasure to immerse ourselves in it. A sheer, genre-bending, delight.
Down to Earth by Trip to the Moon
Tricks and Sleeves; Locked Out of Space (Aeroplane)
Singer-songwriter here Karl Jacobsen – who links up with his cousins Jesse and Aaron (guitars and bass), and drummer Gareth Van Niekerk – delivers a strong line of post-punk and post-folk indie-rock. Sometimes it aims to say too much musically (the dense but somewhat directionless few minutes of Cabin Fever has enough ideas for three songs). At its best when the focus is more clear (the folk-rock swagger of Decline, the engaging ballad Magenta which astutely steps away from MOR but should have broad appeal), this sounds like a band with great potential and Jacobsen a writer with something to say (the early Eighties/New Wave fury of Socialist Socialite).
And Jesse Jacobsen can peel off economic solos which are integral (Crane, where he grounds the song's epic intentions).
Tricks and Sleeves aren't quite there yet, but there is more than enough here which is more than just "promising". A band developing from strengths.
Cautious by Tricks and Sleeves
Andy Richards; Shine On (Aeroplane)
Warkworth-based singer-songwriter Richards touches that place in the New Zealand psyche which the likes of Jack Johnson, Donovan Frankenreiter and Tiki Taane also tap into. Something about positivity set to an acoustic strum and embellished by warm horns (here on Heaven To Me) or riding a reggae-referencing rhythm. It has the whiff of the ocean, Pacific summers and better days about it (check Dumb Little Love Song here which is deliberately overwrought to become humorous). On this second album Richards throws in a little Sixties-influenced power-pop (Smile) alongside the leisurely ballads (the gentle Come is bound to tear at a few hearts in performance).
Although few of the 10 songs have a grip that won't let go, he brings something of himself to the familiar . . . and has a built-in encore with the pub singalong No Hope.
No Hope by Andy Richards
no hope
The Hopkinsville Goblins; Posts From Planet Earth (Banzona)
Now this is courageous. A band which announces itself as just a studio project (at a time when the only money to be made for most is in touring) and this is some crazed pop-rock concept album with part of its ethos in lo-fi sounds (Velvets, early Flying Nun) and song titles like How Much is That Bust of Elvis in the Window?, Nullarbor and Void, Spaceship's Cat . . .
The concept is something about interstellar goblins who are trying to save humanity from itself, with vari-speed vocal samples, ambient party noise and such between the 17 songs.
Reference points are Modern Lovers/Jonathan Richman, early Clean and bluesy Brian Jones-era Rolling Stones and Their Satanic Majesties Request, some Hawkwind perhaps and cheap sci-fi paperbacks from the Fifties.
It would be easy to dismiss this but it's kinda fun and engaging, and warrants repeat-play, especially the more out-there pieces (the noisescape of Nullarbor and Void, Monolith Surfing). More interesting than the description here might suggest.
For more on them go here.
Dot on the Horizon by the Hopkinsville Goblins