Graham Reid | | 1 min read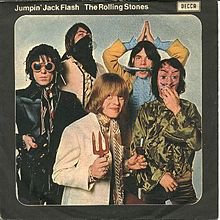 Although the Stones' psychedelic album Their Satanic Majesties Request of late '67 has taken a bad rap, they didn't entirely abandon the trippy sound even as they put it behind them and moved into a more blues-based rock for their next single Jumpin' Jack Flash and the album Beggar's Banquet (which had Street Fighting Man on it).

They might have been toughening up -- spending hours in a flower-filled studio fiddling with tapes to get a trippy sound hardly matched Keith Richards' approach to music -- but on the flipside of the JJFlash single was this droning little gem which owes more than a nod to the Beatles' Rain of two years previous.
Given that JJFlash was so huge you would think many people might have heard Child of the Moon when they flipped over the single. But it is one of the least known in the Stones' catalogue, largely because it only ever appeared on subsequent compilation albums usually filled with the familiar: the '72 collection More Hot Rocks (Big Hits and Fazed Cookies), No Stone Unturned of '73 which was mostly b-sides and didn't sell well, and in the belated box set The London Years of '89.
The Stones camp must have liked it because they made a video for it (here).
It is certainly the last gasp of them in psychedelic mode (except perhaps for this slight return two decades later?), but not without interest. It was also one of the first things Jimmy Miller produced for them, and that's his voice right at the start.
For more oddiites, one-offs or songs with an interesting backstory get the daily updates From the Vaults by using the RSS feed.