Graham Reid | | 1 min read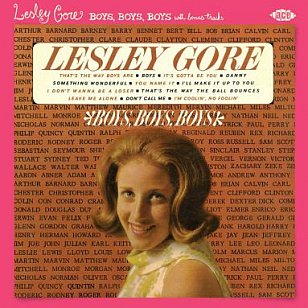 When this great, early Sixties pop sensation died in February 2015 a newsreader on New Zealand television began the item with, "You won't have heard of her but . . . "
That kind of condescending comment – clearly the older frontman was making a pitch for millennials – wouldn't be applied to a sports star from the same era (no matter how obscure) or politician.
Lesley Gore – whose hits included the terrific It's My Party, the vengeful rejoinder of Judy's Turn to Cry and the pre-feminist sentiment of the anthemic You Don't Own Me (written by two men who also penned the equally assertive Don't Call Me which she also sang) – deserved much better.
She possessed one of the most distinctive voices of her era, had Quincy Jones produce her Boys Boys Bys album (here with 13 extra songs), was on the famous TAMI Show (alongside the Stones and James Brown), was nominated for an Academy Award for her songs for the soundtrack of Fame, wrote a song for the film Grace of My Heart (a kind of fictionalised treatment of Carole King's early life) and a decade before LGBT issues took headlines she hosted a television show dealing with issues for those communities.
Yes, the young woman who sang so many songs about boys and dating was a lesbian . . . which, when you think about it, made her a great actress when it came to delivering a lyric.
Of course her pop was manufactured as so much was in the era (Paul Anka wrote a number of the songs she covered) but she was also an occasional songwriter and in this well-annotated collection of 25 songs from an 18 month period starting in early '63 we get all her essential hits, a bunch of them top 20 in the US.
Gore's gift was a kind of intimacy at a microphone when required – despite the double tracking and the power of her voice when she really let fly. The fact she held her own against the Beatles and the British Invasion (at least for while) is testament to her choice of songs and delivery.
On her own songs she sometimes adopted the dynamics of a jazz singer, but mostly she was a straight-ahead pop singer, often given sentimental lyrics to sing.
But across these tracks are also her own I'm Coolin' No Foolin', the love triangle of She's a Fool, Goffin-King's The Old Crowd (nostalgia for candy-store days with friends from school), the fingersnap of Anka's Hello Young Lover . . .
Lesley Gore might – from the distance of a smug newsreader – have seemed like a one-hit wonder for It's My Party but this fascinating snapshot shows that she wasn't one you could so easily pigeonhole.
She sang Something Wonderful from the King and I alongside Marvin Hamlish's Sunshine Lollipops and Rainbows and the teen angst of I Struck a Match.
And of course the great pairing of It's My Party and Judy's Turn to Cry.
And the timeless You Don't Own Me.