Graham Reid | | 2 min read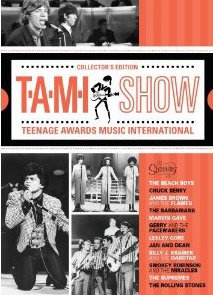 Widely considered one of the best rock films ever made, this long-overdue DVD release might throw you back to 1964 ( to the Teenage Awards Music International) but from the hysteria with which the acts are greeted, and the non-stop stage action (no fluffing about) you barely have a chance to catch your breath.
So this might be a period piece -- but what a period!
Filmed live at the Santa Monica Auditorium, the T.A.M.I. Show brought a rollcall of talent which would be hard to match, seven of the 12 acts here are in the Rock and Roll Hall of Fame -- but at the time many of them were just starting their careers.
Just eight months previous, the Beatles had played the Ed Sullivan Show for the first time so the British Invasion was in full swing. In their absence here are Gerry and the Pacemakers (Maybellene, Don't Let the Sun Catch You Crying, It's Gonna be Alright, How Do You Do It and I Like It) who come off as a perfectly acceptable substitute with their brand of Merseybeat.
There is also pop star Billy J Kramer and the Dakotas (Little Chldren, Bad to Me, I'll Keep You Satisfied and From a Window) who seems the least of it.
But Motown was also on a roll at this time so here are the Supremes with four songs (and stunning hair on top of tiny Diana Ross) and Marvin Gaye (his early hits including Stubborn Kind of Fellow, Can I Get A Witness and Hitch Hike).
But what this film reminds you of -- as much as thrill, we'll get to James Brown in a minute -- is how much cross-pollination was going on, and how popular music wasn't as subdivided as it is today.
Gerry and the Pacemakers cover Chuck Berry's Maybellene (Chuck does it, and others, himself too), the Beach Boys surf-pop owed a huge debt to Chuck, the Rolling Stones who close the show would cover on record songs by Chuck and Marvin, and Smokey Robinson and the Miracles' You've Really Got A Hold On Me would be covered by the Beatles on With the Beatles.
White pop artists shared the stage with soul singers, Lesley Gore (a huge hitmaker at the time) brough the spirit of adult pop (You Don't Own Me) and the Brill Buildng to the stage, Jan and Dean plus the Beach Boys picked up the surfing trend, there were girl groups and Merseybeat, a studio band which included a young, clean-shaven Leon Russell on piano and Glenn Campbell on guitar, the Barbarians brought teenbeat garageband rock . . .
And then there was the incomparable James Brown.
The executive producer Bill Sargent insisted the Stones (here with five song) top the show but when they caught a glimpse of James Brown they asked to go anywhere but follow him. But that's what happened and Brown was unhappy so pulled out a thrilling set (he refused to rehearse) with Out of Sight, Prisoner of Love, the stunning Please Please Please and Night Train. This was Brown at a peak and you can see why he earned the title "the hardest working man in show business".
Putting on a show was his business. This is classic Brown footage.
The T.A.M.I. Show was filmed for cinema release -- a fortnight later it was on big screens in Los Angeles and a month later across the US. The following year it played in cinemas in Britain.
Then it all but disappeared. It has never been officially released on video or DVD previously.
So here it is -- "the greatest rock movie you've never seen" says Steven Van Zandt -- in glorious black'n'white.
Chuck before he went onto the oldies circuit, surf music when it was big, the often sullen Stones having to match Brown's incendiary performance (Bill Wyman still indolently chewing however), post-Beatle British music, the spirit of Motown and Phil Spector . . .
It is quite some 90 minutes, and it just flies by on the back of audience excitement and great performances.
And James Brown, the Godfather in action.
Like the sound of this? Then check out this equally diverse roster of artists from a later era.