Graham Reid | | 1 min read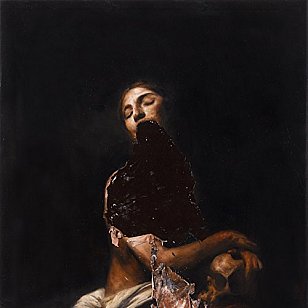 Anyone with a passing interest in this band fronted by Finn Andrews already knows the tone of this one: In interviews Andrews has referenced David Lynch's rebooted Twin Peaks, there is darkness and menace as a pervading ethos (British reviews have said "unsettling" and "gloriously sad eyed rock that preaches to the perverted") and so on.
From the title inward, the Veils deliver on the promise of romantic brutalism and threat, willful sonic distortion, punishing percussion (production is by Run The Jewels' El-P), images from the darklands of the subconscious (Here Come the Dead seems rather obvious) and . . .
You can't help hear elements of Nick Cave here (King of Chrome which falls well short of Cave's gravitas) and Trent Reznor's early work, but the Veils do manage to step past being the confluence of influences, largely due to El-P's dynamic presentation of these songs, the boiling bass and use of loops.
Although this is thrillingly raw in places and the sinister songs exist as discreet ideas within the whole, it is those moments of quiet constraint or melody (Swimming with the Crocodiles, Iodine and Iron) which have as much emotional impact.
Andrews delivered one of the great songs of the past decade with Us Godless Teenagers on the Veils 2011 EP Trouble of the Brain, a song which succeeded because it seemed to speak from the heart rather than the head.
The head, working overtime in pained imagery, evocations of corrupted belief and exploration of the spookside of existence, is more in control here and – compelling though much of this is – some of the compassion of Andrews earlier work has been supplanted by passionate intensity.
Impressive.
But with reservations.