Graham Reid | | 2 min read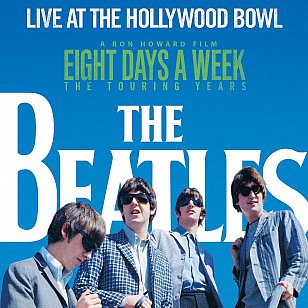 You'd think there was nothing left to exploit in the Beatles' catalogue (other than the film Let It Be and an album of their final rooftop concert).
But this is the first reissue of the live album released in '77 from concerts recorded at the Hollywood Bowl in '64 and '65, plus four previously unreleased tracks and a 24-page booklet with an essay by the ubiquitous David Fricke.
It ties in neatly with the Ron Howard doco of their touring year Eight Days a Week opening in New Zealand cinemas on September 16.
This is absolutely thrilling rock'n'roll -- the openers are an exceptional triple-hit of Twist and Shout, She's a Woman and Dizzy Miss Lizzy where Lennon, McCartney and then Lennon again rip those songs apart . . .
Then we are straight into a tough Ticket to Ride, a crowd-pleasing Can't Buy Me Love . . .
And so it goes through fast-forward period-piece Beatlemania-era pop: Their Liverpool-cum-Hamburg revision of Chuck Berry's Roll Over Beethoven; Ringo on the joyous Boys; She Loves You and -- in the newly added bonus tracks I Want Hold Your Hand in this new iteration -- at the end Lennon's downbeat death ballad Baby's in Black as the closer . . .
Which is kinda weird when you think this album was intended to celebrate the Beatles' cheered-up pop'rocll music.
And when it comes to presenting their mostly invigoratingly visceral music this new album really does arrive in one of the worst-ever post-breakup album covers.
"Cheap" ain't a cheap enough word for it.
And once the film -- which only has a few minutes of a Hollywood Bowl concert -- has gone about its business this will look even more irrelevant and puzzling.
However what this album and the Howard's doco proves – as well as the exceptional Live at Shea Stadium concert footage which is a stand-alone film after the main Howard feature – is how tight the Beatles were on stage, despite the fact that they couldn't often hear each other.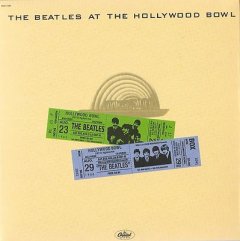 And also – aside from a few songs here and there – just how rock'n'roll their sets were, really upbeat originals and then songs from that deep well of American rock'n'roll from the Fifties which they cut their teeth on in Hamburg.
This is also the only non-bootleg album we have of the Beatles live during their touring years, so that alone makes it of considerable interest and importance.
So this remastered album – which underwent some studio tweaking, tinkering and overdubs at the time – offers American rock'n'roll (Twist and Shout, Dizzy Miss Lizzy, Roll Over Beethoven, Long Tall Sally which speeds up as they go into it, Everybody's Trying To Be My Baby) in a British accent . . . and their hits of the time (Ticket to Ride, A Hard Day's Night, Help, She Loves You etc).
With (tweaked-down but still excitingly present) screaming.