Graham Reid | | 1 min read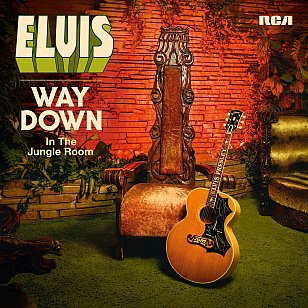 Golly gosh, the Beatles and Elvis Presley reviewed in the same week? Makes you wnder what century we are in.
But the reissue of the Beatles album Live at the Hollywood Bowl (now equally billed as Eight Days a Week to link with the doco of that title) is the only official live album we have of them from their touring years . . . and this Elvis double CD are his final recordings, done at home following his sessions at the nearby Stax studio in '73.
Perhaps because he was carrying a massive amount of weight and was disinclined to leave the house other than for touring commitments, producer Felton Jarvis of RCA had a mobile studio brought down from New York and they set up Presley's famous Jungle Room in Graceland as a makeshift but comfortable studio.
The first sessions yielded the well received album From Elvis Presley Boulevard, Memphis, Tennessee in May '76 and a number of other tracks recorded later in the same space were included on the final album released in his lifetime, Moody Blue which came out just a month before his death in August '77.
Presley may have been troubled by his pill intake and finding it hard to perform becase of his ballooning weight . . . but you'd never know it from these final recordings.
The man could still sing up a storm or pour his heart into the country-framed and sometimes sentimental ballads which make up the bulk of the material across these two discs which gather the From Elvis Presley/Moody Blue along with outtakes and some rehearsal tomfoolery.
Among the material is one of the saddest songs ever written (He'll Have To Go), I'll Never Fal in Love Again, She Thinks I Still Care, Blue Eyes Crying in the Rain and Danny Boy.
The casual nature of the sessions is evident on the second disc of first takes and a few fluffs but the power of Presley's voice is undiminished and in many ways these sessions were more focused and coherent than those at Stax.
Even on the first takes Presley puts himself staright into the interpretation and really possesses them entirely.
He might have cut a sad figure when you think of the young, lean and sexy Presley . . . but that voice?
Quite extraordinary.