Graham Reid | | 1 min read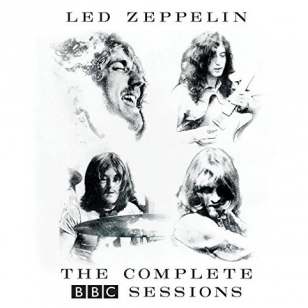 Although JImmy Page's recent remastering programme of all the Led Zeppelin studio albums made them sound sharper and stronger, the additional tracks included were rarely added value.
Many were remixes of varyng degrees of interest (some none at all, see here and here and here), but ironically it was their final mish-mash release Coda which came out best.
Despite us calling the original album a driftnet trawl through their vauts we also said it was now, with the added tracks, much more interesting than it had been previously. It included a previously unreleased version Traveling Riverside Blues from a BBC session.
And now Page has turned his attention to other material available from their many BBC appearances.
Although considered stuffy and staid, the BBC recorded Hendrix, the Beatles and many others at their peak.
This three-CD expanded version of the '97 double disc (remastered by Jimmy Page, eight previously unreleased tracks) is for obsessives – three versions of You Shook Me and I Can't Quit You, five of Communication Breakdown etc.
But over the two years from March '69 covered here you can hear them adding real swagger and taking no prisoners.
Among the newly released tracks check the explosive, five-minute Communication Breakdown from London's Paris Theatre in '71 where Page's guitar solo shoots fireworks in every direction then the song deliberately stutters down to nothing and rebuilds to a thrilling conclusion.
This set is on five-record vinyl also, with a download code, 44-page booklet and a limited edition numbered print of the cover art.
Big got bigger, loud a whole lotta louder.