Graham Reid | | 4 min read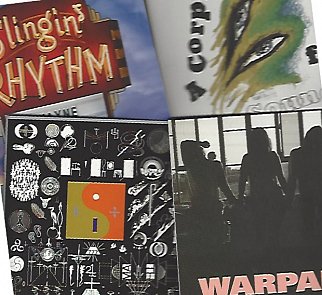 With so many CDs commanding and demanding attention Elsewhere will run this occasional column which scoops up releases by international artists, in much the same way as our SHORT CUTS column picks up New Zealand artists.
Comments will be brief.
Bon Iver: 22, A Million (Jagjaguwar)
For hipster beardies, young and sensitive retro-cardie women and old guard greyhair folkies who once found in Bon Iver a kindred, sensitive soul from a wintry log cabin a few years ago, then pull hard on the handbrake of expectation.
And look at where he has been since Forever Emma Forever Ago and Blood Bank.
He sang on Kanye West albums for a start, a man who – whether we care about his private life or not – has explored musical boundaries, not the least as far back as 808s and Heartbreak when electronica was his interest, even if few followed him down that path.
Well, Bon Iver (Justin Vernon) has perhaps belatedly come to that intersection and has chosen that road less traveled for "folk musicians" on this album which stings with vocal processing, AutoTune vocoder effects and sometimes techno-faith-proving indulgences.
But then on a piece with a title as unpromising as 29#Strafford APTS (?) he brings in distance and evocative strings to embellish his mystical visions (which at a pinch are close to Anglo-folk Van Morrison going into the mystic, albeit via disconcerting and unnecessary vocoder).
And 8 Circle has a not dissimilar spiritual ache embedded within as he stands beneath a streetlight – surrounded by synth splashes and the interpolation of a "holy" choir.
Agreed, the song titles here look like foolish download codes and some-such, so don't be troubled by them.
Get past the shock of the sonics and the shift into a new aural space (old heads may remember recoiling from Neil Young's sample-and-hold Trans in '82 which similarly pushed an acoustic and rock singer into new technology) and there is much – very much – to be enjoyed and explored here.
When he opens the exceptional 29#Strafford with, "Sharing smoke in the stair above the hot car lot, sun shine hard on the video spot . . ." you know you are obliged to enter his world, which is quite seductive . . .
Not the easiest album you will hear this year, maybe not even one which will make "best of" lists.
But it is uncompromisingly courageous, compelling in its poetic musicality and a step beyond the expected which rewards and demands.
Isn't that what we would ask from true artists? Whether they fail to deliver or not, they should at least try?
And Bon Iver here is trying . . . although some might churlishly say, "Yes, very trying".
Extraordinary.
8 (circle), by Bon Iver
Merchandise: A Corpse Wired For Sound (4AD)
There's very little of musical interest on this second album by an American band who take as their reference points bog-standard Eighties Brit-pomp (Depeche Mode leap out demanding their superior style be respected) and self-important US rock of the Nineties.
So we will pass on quickly . . . just to note the band name and the album title.
Band name? How dare Bono suggest – as he once did – that Americans don't get irony? These people do, so much so they seemed to have adopted it . . . but in doing so have lost the point of irony.
And the album title? Yes, here come the Goths and the disaffected . . . who will be astonishingly disappointed how mundane and mostly plodding this is.
This is full of its own self-regard and utterly unmemorable.
Merchandise?
Jeez, that sounds like it was their first thought.
Shadow of the Truth, by Merchandise
.
Warpaint: Heads Up (Rough Trade)
One of the most anticipated, over-rated and disappointing bands at Auckland's Laneway five years ago – topped only by Ariel Pink's idiotically unfocused and even more hailed set by the undiscerning – this US outfit barely redeem themselves on these 11 songs.
As a band – whose members have spent time doing other things independently – they sound shapeless while they explores myriad styles from electro-pop on New Song (not bad for its bass-funk and post-disco groove , but hardly new) to Cure-like ambient dream-pop on The Stall and So Good (ditto). And there are insider nods to references in deep-soul hip-hop (the engrossing Don't Wanna which suggests they've heard Gotje/Kimbra's Somebody I Used to Know), and . . .
A piece entitled Dre which is closer to one-time Bjork than the Dr.
May we say, that on record here Warpaint remain – aside from rare moment of engagement like the crafty title track and a couple of others – over-rated, disappointing and little more than variants of much that is familiar.
Aside from suggesting they might be recalibrating wherever they go from here, not a lot here cries out "Listen now".
But enough, just enough, says ,"Next time".
Still a work in progress.
Above Control, by Warpaint
Wayne Hancock: Slingin' Rhythm (Bloodshot/Southbound)
Hancock's reference points are Texas swing, roadhouse boogie and stomp-heel boots in honky tonk beer joints. And here he open with a little self-mythologising about being out there on the road in the title track, then Dirty House Blues push this back into further cliches and pretense . . . so much so that it is hard to go beyond them.
Nothing to hear here folks, move along?
Musicians singing about their lives on the road are rarely of interest, especially if you know them dirty ol' roadhouses and such being sung about aren't where the artist plays these days.
Nostalgia as a conjouring act?
So you set aside such things – we have to presume he hasn't Killed Them Both on the country-swing murder ballad – and look elsewhere for the essence of this. And it is in the music by his excellent band – but otherwise there is little here which is as fresh as it might have you believe.
Always nice to hear Lloyd Maines on dobro (on the old Thy Burdens), but elsewhere the lyrics ride the crest of cliché and sometimes Hancock – who has been an essential listen in the past – is the least of it here.
Disappointing.
Thy Burdens Are Greater Than Mine, by Wayne Hancock