Graham Reid | | 1 min read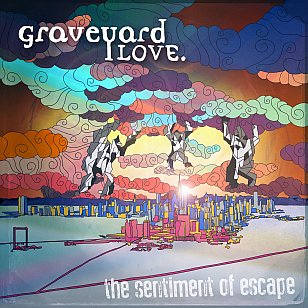 Graveyard Love is New Zealand synth-pop artist Hamish Black and we single this album out for a couple of reasons: first of all he works an interesting area which takes as its starting point the Eighties when bands like Orchestral Manoeuvres in the Dark, the early Cure and various British gloom-rock bands were exploring the sonic textures and invented landscapes of synths and darkly chiming guitars.
At that time there were numerous innovative bands and albums, and Black looks back to that era with not just affection and as a reference. But to spin it into something contemporary for a world where there is a disconnect between real emotion and the mundane activities of being a human coming to terms with the great anonymity out there.
Which leads to the second reason: all profits from the album go to Auckland Action Against Poverty (see their website here) and that seems not just a very generous gesture but entirely in keeping with the conception.
The album title also suggests how we flee from reality, just as the protagonist did in CK Stead's novel Smith's Dream, or Barry Crump's characters would by going bush or on the road. It plays to that ingrained Kiwi longing to "get away from it all" to the bach, the beach in Thailand or a resort in Fiji . . .
That is not to say this music, which has a clinical precision at times and keeps an emotional distance, deliberately evokes any of that, but the song titles conjure up such thoughts: A Moment in the Frozen Food Aisle, Dynamism of the Getaway Car, Fast Busy Losing Time, Future the Escape Plan, You and I Are Free to Escape . . .
Those around for the first few Cure albums particularly will recognise the emotional and musical territory, but there's a heart behind the impassive face of the driver at the wheel of the car heading to some imagined future beyond the darkness.
You can purchase this from bandcamp here, and remember where the money goes.