Graham Reid | | 1 min read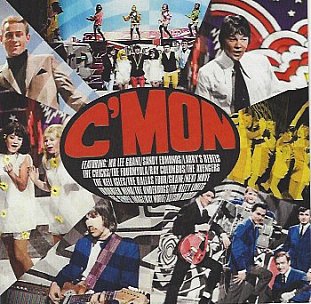 One of the most popular areas at the current Volume; Making Music in Aotearoa exhibition at the museum in Auckland -- even for shy Kiwis -- is the mock-up of set for the television series C'Mon, the sequel to the earlier Let's Go.
If you feel so inclined you can dance on the set.
It was exactly half a century ago that the C'mon series was launched and, again under the guidance of director/creator Kevan Moore, the programme created careers for local pop artists like Sandy Edmonds, Mr Lee Grant, Shane (outside of the Pleasers), the Chicks, the Keil Isles (who had been around for many years but never with this kind of mainstream coverage) and others who became household names.
The show ran for 50 episodes - only two survive apparently -- and regular guest were Larry's Rebels, Ray Columbus (post-Invaders), Allison Durban and Tommy Ferguson. Others who appeared included the Underdogs, the Avengers, the Fourmyula, Dizzy Limits and the Challenge.
Many of the songs these people sang were covers of current international hits -- but it gave all these artists small-screen experience -- and they acquited themselves well, enjoyed national recognition, embarked on package tours and . . .
The series introduced changing fashions -- beat-era suits and mini-skirts to hippie floral -- as much as changing musical styles, and the sets were increasingly psychedelicised (albeit in black'n'white and with go-go dancers).
C'mon was appointment viewing for teenagers and parents (the latter keeping a watchful eye on the hairstyles and clothes knowing their kids were doing the same!) and offered a glimpse of global glamour as portrayed by locals. Suddenly the world was there in the living room, and it came with pop-sized songs. Dozens of them.
More than three dozen are collected on this single disc by those acts mentioned above which opens with the Keil Isles playing the show's theme and closing with host Pete Sinclair's breathless outro.
There are some big local hits here -- Grant's Opportunity and Thanks To You perhaps the biggest -- and as a postcard from the past this is bound to bring back memories for those with a Gold Card. And what is impressive is just how well local acts took on signature songs by international artists and acquited themselves very well indeed.
The booklet is chock full of colourful images, liner notes by Moore, "a week in the life of a go-go dancer" by Trish Poperwell (as she was then), potted bios of choreograher Dorothea Zaymes and performers and much more.
It is an intelligent and informative package (again the man behind it is archivist and enthusiast Grant Gillanders) which looks back at an important period in New Zealand's pop culture with respect and affection.