Graham Reid | | 2 min read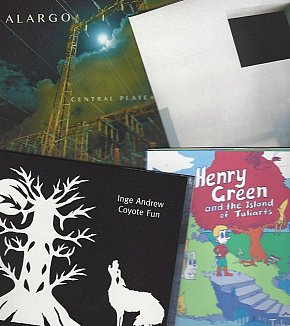 Facing down an avalanche of releases, requests for coverage, the occasional demand that we be interested in their new album (sometimes with that absurd comment "but don't write about it if you don't like it") and so on, Elsewhere will every now and again do a quick sweep like this, in the same way it does IN BRIEFabout international releases.
Comments will be brief.
Alargo: Central Plateau (alargo.bandcamp): Alargo are Auckland's Alan Brown (keyboards, synths) and multi-instrumentalist Kingsley Melhuish who have considerable pedigree in jazz and elsewhere, Brown delivering the much recommended Silent Observer ambient album two years ago.
Here they seduce you in on the eight minute title track with emotionally cool trumpet over a wash of broad synths which hits a smart middle ground between ECM's Tomasz Stanko's most atmospheric work and European ambient music. But this is just a clever ruse because towards the end it morphs into something more disconcerting and disparate . . . which leads into the even more fragmented 10 minute Scratch It which follows.
An experimental, stateless interplay of sounds – short trumpet punctuations and querulous sounds from loops and effects – it owes the barest nod to the Brian Eno/Jon Hassell/Harold Budd ambient music of the early Eighties but brings a more cosmic and cinematic sound design into play. The final 17 minutes-plus Actopia opens with a more restful exotic minimalism from keyboard before bringing in a pastoral feel, which is again undercut by beats, angry tuba, soaring trumpet . . .
This shapeshifting album rarely rests with the obvious but explores sometimes whimsical, sometimes dark territory and – as with Brown's Silent Observer – suggests soundtracks to imagined places and films of the psyche.
Central Plateau, by Alargo
alea, alae (eleventy12/alae.bandcamp): This duo of Alex Farrell-Davey (vocals, guitar) and Allister Meffan (keys, vocals, horns) and pals recorded these six lowkey, emotionally resonant songs in five days at Roundhead in Auckland, have toured with Anna Coddington and Hollie Smith, recently played Rhythm and Vines and are scheduled for a performance at the Volume exhibition in Auckland.
Given the down-tempo, ever-serious nature of these singer-songwriter pieces it's hard to imagine – without having been there – how they might translate on the big stage before a Rhythm and Vines festival crowd, this seems intimate home listening.
Very promising and undeniably literate and engaging in small bites, but an infusion of energy in places – the soulful The Kindest Love piano ballad briefly leaps out for its more raw emotion – might have prevented this becoming a pleasant backdrop while doing other things.
Each track comes with a You Tube video here.
All Gived Up, by alae
John White: Henry Green and the Island of Tuliarts (Monkey): In a delightful cover with lyrics and a download code, this broadly conceptual folk collection has resonances from romantic, escapist childhood stories (the titular character stows away, meets pirates, becomes a queen in the land of Tuliarts), Celtic folk (Sally with archaisms), and characters and places with fanciful Romantic names (Batholemule Brixton, Noneoir, Lexaloffle).
Couched in guitar, viola, cello and violin, this is an unusual outing from this expat out of Dunedin but, by creating its own world in fairytales and fancy, it invites the listener in to try to decode, interpret or simply enjoy the escapism . . . although as with all such stories it is not all sweetness and light. There is fuzzed up guitar on Farewell Song and the indie-pop shanty Whisky and Beet, but the disturbances are in the stories too.
A much more completely realised collection than the earlier Inkadies we wrote about many years back.
Noneoir, by John White
Inge Andrew: Coyote Fun (Sticky Folk): Andrew parlays a more traditional kind of folk-based storytelling on this impressive debut album. She carves out distinctive characters who have a backstory she lightly sketches but allows the listener to fill in the blanks. She works some unusual metaphors (an unwelcome spider, a haystack embracing a needle) alongside stories of 19th century prostitute, a woman who waits for her dead husband, a fatalistic woman who robs a bank and dies in a hail of bullets, a murder ballad about a woman wreaking revenge for emotional and physical abuse . . .
Andrew brings real passion to these snapshot stories, making these songs and her characters very hard to turn away from.
Highly recommended.
Isabella Tassy, by Inge Andrew