Graham Reid | | 2 min read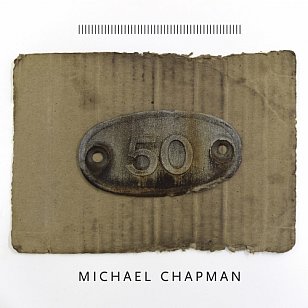 Late last month this outsider singer-songwriter turned 76 and the album title refers to just how long he's been in the game. And mostly on the losing side when it came to public affection, but a hands-down winner with a small cabal of critics.
When he first appeared in the late Sixties he was on Britain's innovative Harvest label with the likes of Roy Harper, Pink Floyd, Kevin Ayers and the Third Ear Band. But along the way he played with Mick Ronson (lost him to Bowie's Spiders from Mars) and Thurston Moore, and a 2012 tribute album included contributions by Hiss Golden Messenger, Maddy Prior, Moore and Lucinda Williams.
If he's spent a longtime waiting for the spotlight to hit this stentorian, dark singer and lyricist/guitarist from Yorkshire, it might just be swinging his way for this album which musically rides on Anglofolk but conveys the similar sense of desperation and bleak outlook of Americana's best.
In fact on this 10 song collection produced in New York by uber-fan Steve Gunn (who also contributes some distinctive alt.rock sonics on electric guitar) has many references to American locations. When Chapman heads towards Memphis in Winter the seven minute journey is positively menacing and relentless. It opens "we're past the end of nowhere . . . when it gets too dark to rain . . ."
Imagine Mark Knopfler having gargled recent Dylan and schooled on the worst nightmare visions of Townes Van Zandt or Tony Joe White. Jesus doesn't save down here, there are just people hungry and in fear.
Some of these are revisits to older songs (Memphis in Winter dates from '99), others are new songs. But they fit together seamlessly as the band bring in banjo where required (Money Trouble).
It isn't all dark (although you wouldn't want to play Memphis in Winter and the equally apocalyptic Sometimes You Just Drive back-to-back if you are feeling low) and even the semi-confessional Falling From Grace eases upwards with an elevating if melancholy melody.
The opener A Spanish Incident/Ramon and Durango is located somewhere between Seventies story-telling Dylan and Van Zandt as he prepares for a road trip in a battered car being repaired by the titular characters, but he knows he's on his way to nowhere where only the lizards can live under this burning sun.
The final track on the album (the digital download offers two more, the closer being the eerie and earlier Navigation -- "I asked the price, not the cost" -- given a disconcertingly repeated and shimmering guitar figure) is That Time of Night, previously covered by Lucinda Williams on that tribute album.
It is look back on a life lived outside the game but always having been a player. It sounds like a 2am rumination "when dreams can drift right out of sight" and there's no reason now to not say it: "I love it when you need me" despite every stumble and fall and "take me for what I am".
If late in life Michael Chapman deserves attention it is surely for this album because it connects so many dots between past and present, Britain and America, fear and wonder, and defeat and acceptance.
As he rumbles on that opener, "the hour is getting late . . . and I'm just biding my time".
Trevor Reekie of RadioNZ did an interesting interview with Michael Chapman a few years ago: It is here.