Graham Reid | | 1 min read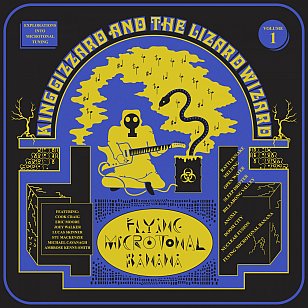 One of the most useful and enjoyable books on Elsewhere's shelves is quite dated but always a pleasure to pick up. It is Ian McFarlane's Encyclopaedia of Australian Rock and Pop which dates from the late Nineties.
The fun to be had is in some of the band names, Australians seem to have a penchant for the odd: Ku Klux Frankenstein, Scary Mother, Kiss My Poodles Donkey, Sadistik Exekution, the Psychotic Turnbuckles, Conway Brothers Hiccups Orchestra (see Captain Matchbox Whoopee Band), Grong Grong . . .
I can't find them in there, but I'm pretty certain that in Sydney I once saw a band called A Couple of Jugs of Cold Pork Fat. Or something like that.
And then there's the ever-popular Nuns in Traction.
To this illustrious list of names we recently added King Gizzard and the Lizard Wizard on the back of their seriously riffing Nonagon Infinity which ended up in our best of list for last year.
But for that album – where the head-down blues-based songs segued into each other to create a non-stop hard rock party – this one sees them go in another direction, much more experimental and some might hear a psychedelic Zappa somewhere in here (the opening passages of the mesmerising Melting) or early King Crimson (Doom City).
But it's more than that. On that previous album they flirted with some Middle Eastern microtones and now they go (mostly) outside the box for an album of more trippy cosmic rock over stubborn rhythmic pulses and fills from organ, skewed guitar and even searing bagpipes.
If the spirit of Seventies boogie rock informed their previous outing on this one – the first of five albums they are promising this year – we are steered even closer towards Hawkwind which was an oblique reference point last time round.
It's pretty silly in places – the seven minute-plus opener Rattlesnake sets you up well for the endurance test – and the relentlessness here (two drummers!) doesn't have the joyous liberation of their previous work.
What it does have going for it is wire-thin guitar passages based around microtones in the manner of many late Sixties SanFran bands influenced by raga rock. But their limited melodic palette, somewhat inane lyrics and grinding rhythms mean this remains more earthbound than it might have been.
Disappointing.