Graham Reid | | 2 min read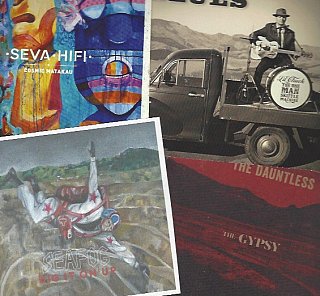 Facing down an avalanche of releases, requests for coverage, the occasional demand that we be interested in their new album (sometimes with that absurd comment "but don't write about it if you don't like it") and so on, Elsewhere will every now and again do a quick sweep like this, in the same way it does IN BRIEFabout international releases.
Comments will be brief.
Seva HiFi: Cosmic Matakau (Sugarlicks)
It has been almost five years since the promising Early album by Seva HiFi (aka singer Baz Suamili of Niuean background and percussionist Levani Vosasi from Fiji, plus guests here) which was, as the title suggested, a bit incomplete and too-soon.
The ideas were there, but much of it didn't quite gel.
This outing – again produced by Gmuva – comes off as more consistent even as it traverses some of the same territory. So its very hard not to get caught up in the relentless dancefloor disco-reggae groove of The Man With The Sign (Stephen Hussey adding the archetypal Silver Convention strings), the laidback Travelling or the trip-hop of Something New. Or the six minutes-plus of the soul ballads Fallin From Space and more ambient The Highway.
Somebody is a spiritually inclined ballad'n'beats with a powerful punch of self-assertion in this age of anonymity. Again, not everything works – the beautiful Pacific sounds of Bypass Memory with rolling waves and slow strings loses something by trying to marry the emotionally dense lyrics with the musical backdrop – but with backing vocals from Tyra Hammond, Opensouls' Isaac Aesili on synths/programming and horns, distant tabla by Manjit Singh on Temper Temper this is very intelligent, sophisticated and enjoyable electronica-infuse Pasifika soul.
If this had come out at the start of summer rather than the end . . .
The Man With the Sign, by Seva HiFi
Li'l Chuck: Utility Blues (Backyard)
Billing himself as Li'l Chuck the One Man Skiffle Machine, Chuck delivers exactly what he promises: skiffle and a one man band deploying percussion and kazoo alongside harmonica and hammered acoustic guitar and his vocals and hollers.
Here on the second album under his own name – he plays in numerous other outfits – he delivers the classic Sixteen Tons (mostly more upbeat than the angry lyrics by Merle Travis suggest) alongside 11 originals which conjure up blues (Jimmy Reed), old time swing, rockabilly (Honey Leave Your Porch Light On), salacious ragtime full of kitchen imagery innuendo (Queen of Home Baking), juke joint blues on Whiskey and Ginger . . .
Mixed by Ben Edwards who brings out the space and nuance, this is a collection of songs which is doubtless better enjoyed live although out of the raw clay Chuck and Ben have actually delivered an album.
Whiskey and Ginger, by Li'l Chuck
Tony Daunt and the Dauntless: The Gypsy (AA)
With a surname like Johnny Devlin (which invited Johnny Devlin and the Devils), this Auckland singer-songwriter walks the Cash-line between menacing Nick Cave with a pop-abilly spin (Misery), angry socio-political comment (The Company), roadhouse country-blues (Lonesome Highway) and pub rock (Sometimes).
The broken-man ballads Bleeding and Gypsy (whispery Cave with Kevin Place on pedal steel again on the latter) sound like songs which could bring the pub crowd to silent halt.
A good souvenir of an enjoyed gig.
Bleeding, by Tony Daunt and the Dauntless
Seafog: Dig It On Up (Zelle)
Elsewhere has previously introduced Zelle Records out of Vienna which, against all expectation even in the digital global village, has an affection for New Zealand music . . . and releases it on limited edition vinyl.
The Seafog trio out of Port Chalmers is helmed by Robin Sharma and here get a better and more spacious production than on their debut album Raise Your Skinny Fist. The result across these six expansive songs is an engaging account of what they do, in a post modern way which references the Fall, ZZ Top-cum-Grease, the Stones, a brooding Manchester rock sound and more, all wrapped up in coherent songs and sonic landscapes for brittle guitars and choruses.
Sharma does broadcast on a very narrow vocal range and given the limited availability of this we leave it over to you to explore further if you wish, but here's a sample.
Legs, by Seafog