Graham Reid | | 3 min read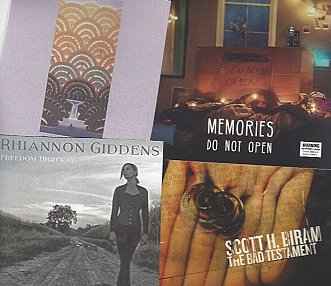 With so many CDs commanding and demanding attention Elsewhere will run this occasional column which scoops up releases by international artists, in much the same way as our SHORT CUTS column picks up New Zealand artists.
Comments will be brief.
.
Rhiannon Giddens: Freedom Highway (Nonesuch)
As America turns even more deeply divided along lines of race and class (yes, they have classes despite their denials) these songs which are soaked in the spirit of gospel, old blues, the redemption of the Lord and the better days to come sounds sadly timely. Again.
On this second solo album Giddens – who was in the acclaimed African-American folk-blues and fiddle band Carolina Chocolate Drops – taps those roots in a voice which is strong, unequivocal and assured in its interpretations of material like the Staple Singer's classic song which gives this album its title.
But Giddens also writes in voices from the past, as on the folk ballad Julie which is a tense dialogue between a slave owner mistress begging her black servant Julie to protect her children and property as the Union troops arrive. But the message isn't buried in the past, it is as old and as contemporary as "do unto others . . .". Or reap the consequences. Equally current is Birmingham Sunday ("the blood ran like wine and the choirs kept singing of freedom") in these times when people actually have to say, "black lives matter". The resonances of slavery days, repression and hope are throughout these 12 songs.
An album which is not just important and timely but also uplifting because it reads the past as a platform to stand on and build a better future. Again?
Better Get It Right First Time, by Rhiannon Giddens
.
Jake Xerxes Fussell: What in the Natural World (Paradise of Bachelors/Southbound)
Two years ago the self-title debut by this American singer-songwriter and folklorist found favour at Elsewhere for being richly rootsy, but not in a mannered way. The connection to the land and its people seemed to come naturally to Fussell whose parents were folk archivists.
So, steeped in various traditions and from his university research Fussell is ideally placed to bring his confident baritone, finger-picking style and knowledge to these nine, mostly traditional songs, which come from the South but also Virginia, Arizona, Wales (St Brendan's Isle) and Scotland . . . as well as from the pen of Duke Ellington in the Forties on the opener Jump For Joy to which Fussell brings a touch of melancholy.
He also reinvents Bells of Rhymney as a sprightly and upbeat back-porch ballad over Nathan Bowles drums which sounds like a kit made for $20. The highpoint however comes right at the end with a shape-shifting, almost seven-minute interpretation of the Scottish ballad Lowe Bonnie (sometimes known as Henry Lee) in which he slowly explores the story of a lover's revenge for a betrayal. It's a story as current as a recent headline.
Essential for anyone interested in folk music, and its deep and diverse roots.
Canyoneers, by Jake Xerxes Fussell
.
Scott H. Biram: The Bad Testament (Bloodshot/Southbound)
We might be a bit late on this one – it came out in March – but because blues-rocker Biram was an Elsewhere best of 2014 choice for his Nothin' But Blood we want to bring him to your attention . . . especially if you like sinners'n'whisky, and the raw'n'rowdy side of rock'n'roll America where country connects with punk. With one small exception he plays everything here (he's a self-styled Dirty Old One Man Band) but he also mixes things up with razor-wire electric blues (Red Wine, the instrumental Hit the River), acoustic country ballads with harmonica (Long Old Time), whoopin' train-time blues (Pressin' On) and sometimes sounds like a man possessed (Train Wrecker).
There's also a slice of white gospel (True Religion) and he looks at his life in the thoughtfully unrepentant Righteous Ways (which he doesn't have the time for, of course).
Crippled and Crazy, by Scott H. Biram
.
The Chainsmokers: Memories Do Not Open (Disruptor)
The hit-machine and Grammy-winning production team of Alex Pall and Drew Taggart as Chainsmokers – apparently the third most streamed artists on Spotify – here unleash their user-friendly debut album which comes with the requisite upbeat dance tracks (Break Up Every Night), various guests (Coldplay on Something Just Like This) and a bunch of sensitive/hurt post break-up songs. And a lot of lyrical repetition for effect: "Yeah I meant it, I meant it, I really fuckin' mean it, I meant it . . .".
There are only so many formulaic songs you can take – start with a repeated piano or synth line, have the singer sound desperate and maybe heartbroken, crack in with the clubland beats about 90s seconds in to get the crowd jumping – and this album has 12 of them.
They are dull, selling misery to teenagers (and how hard is that?) and only a few guests elevate this beyond the tedious and predictable.
A hit, I fear.
Paris, by the Chainsmokers