Graham Reid | | 2 min read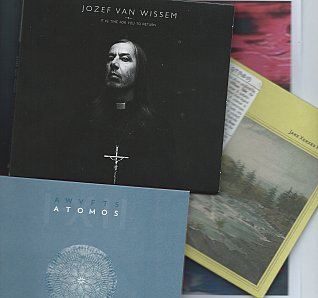 With so many CDs commanding and demanding attention Elsewhere will run this occasional column which scoops up international artists, in much the same way as our SHORT CUTS column picks up New Zealand artists.
Comments will be brief.
Jake Xerxes Fussell; Jake Xerxes Fussell (Paradise of Bachelors/Southbound): North Carolina singer/guitarist Fussell's father was a folklorist and photographer who took his son with him on his travels around the Southeast as he documented and recorded traditonal culture and old-time musicians. It rubbed off on Jake who has become his own kind of archivist, but one who -- while being faithful to the traditions and the songs' origins -- brings old tunes into the contemporary world through superb guitar playing (finger picking etc) and teaming up with like-minded souls. On this his debut he has various Nashville sesion players including lap steel player Chris Scruggs (Bonnie Prince Billy) and fiddler Hoot Hester (Bill Monroe, Ray Charles). Here they essay 10 songs which have their origins as far back as the Twenties and Thirties but which sing out of the speakers as sounding fresh and reinvigorated, and rich because of Fussell's straight and strong baritone. One for fans of early Ry Cooder, that's for sure.
Steve Wilson; Hand. Cannot. Erase (Kscope/Southbound): Although best known for his solo prog-rock work and with his band Porcupine Tree, Wilson -- interviewed here -- also stretches himself into production, remixing and remastering for his prog heroes (notably King Crimson and its offshoots, an influence sometimes apparent here) and here writes a themed narrative prompted by the tragic death of 38-year old Joyce Vincent who died in her London flat in 2003 and whose body went undiscovered for more than two years. Plenty of room for pathos and anger there, and in discreet songs which roam from piano ballads to CSN-like harmonies and crunching, guitar-splattered prog (all in the 10-minute 3 Years Older) Wilson -- in a quadrophonic sound and a cover that gives Genesis' Lamb Lies Down a run for its money -- delivers an impressive solo statement. That said, as is often the way with Wilson you tend to admire and respect his dynamic and dramatic work than feel deeply engaged by it. Hoever there are some lovely stand-alone songs here and they keep you coming back when the lengthy pieces start slipping past you.
Jozef Van Wissem; It is Time For You To Return (Crammed Discs/Southbound): The religio-Goth cover here and the artist's recent soundtrack win at Cannes for his music in Jim Jarmusch's wonderful vampire film Only Lovers Left Alive might put most people off. But hold hard, because Van Wissem in a classical lutist (among other things) so there are some very stately, almost baroque passages here. And of course that soundtrack was a key element in the Jarmusch film so here, on guitar, the filmmaker joins Van Wissem and singer Yasmine Hamdan (who appeared near the end of the movie) for the quietly dramatic Invocation of the Spirit Spell. In other places there are beats and sonic glitches (by Domingo Garcia-Huidobro) behind Van Wissem's playing and singing, so over the 36-minute duration there is enough texture and diversity to engage. All that conceded, this is still very much minority listening.
A Winged Victory for the Sullen; Atomos (Erased Tapes/Southbound): Released late last year and slipping past us until recently, this hauntingly beautiful electronica album by Britain's AWVFTS duo is of music commissioned by the Random Dance Company. But the quiet, ambient and subtle instrumentals -- like similar conceptions by Brian Eno, Gavin Bryars and others -- stand independent of the action. With cello drones, lachrymose viola and violin, wide and sustained piano chords, descending but minimal melodic lines and a sense of gently shifting dynamics this is the kind of album you can happily put on and either engage with . . . or allow to become part of the aural wallpaper. Works both ways equally well. Quite lovely.