Graham Reid | | 3 min read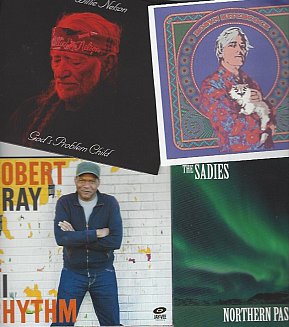 With so many CDs commanding and demanding attention Elsewhere will run this occasional column which scoops up releases by international artists, in much the same way as our SHORT CUTS column picks up New Zealand artists.
Comments will be brief.
.
Willie Nelson: God's Problem Child (Sony)
At 83 and with the passing of recent companions and fellow musicians ("one by one my friends have crossed over" he sings in Old Timer) it is perhaps inevitable that Willie Nelson would have mortality on his mind. And he has been reminded of his own death many times when the internet comes alive with those periodic announcements of his demise.
And in the upbeat and jocular Still Not Dead here he addresses that very thing "(I woke up still not feeling dead again today . . . if I died I wasn't dead to stay . . . you can't believe a word that people say"). Elsewhere however – as on the title track where he teams up with Tony Joe White, Jamey Johnson and the late Leon Russell on one of his final sessions – the mood is more somber if still defiantly walking ahead of the shadow of that follows. And the final track is a wonderful tribute to his friend, the late Merle Haggard ("got some news this morning . . . someone so much larger than life, can't believe they'd pass away") which says his songs will live on. It is entitled He Won't Ever Be Gone.
But this album is far from maudlin, just reflective in places and witty in others (the political Delete and Fast Forward). Willie of course is at his best on the slow ballad and they are in abundance here (True Love among the best) and producer Buddy Connor brings out the best in these diverse settings from the spare and vaguely Tex-Mex stylings of A Woman's Love, the barroom piano of Your Memory Has a Mind Of Its Own and the twang of Still Not Dead to the swampy rock feel of the title track. At 83 we should all be so lucky to be this alive and relevant.
It Gets Easier, by Willie Nelson
Robyn Hitchcock: Robyn Hitchcock (YepRoc/Southbound)
This literate, mildly eccentric British here records in Nashville, his new home, with a snappy band and some stellar guests (Gillian Welch, Grant Lee Phillips, Pat Sansone from Wilco among them) but mostly he remains firmly within his Brit-power pop/psychedelic rock area as he sings of Virgina Wolfe and Sylvia Plath, gets a stuttering Syd Barrett style into the Byrdsian Mad Shelley's Letterbox, gets a little dream pop on the increasingly loud Sayonara Judge and gets reflective and brings in cello with backward guitar for the standout Autumn Sunglasses, a slice of psychedelic pastoralism.
Yes, he channels a bit of Johnny Cash on I Pray When I'm Drunk, and there are pedal steel guitars in a couple of places (notably the droll 1970 in Aspic) but Hitchcock remains firmly a man out of place and time. A man whose 40 year career – starting with the Soft Boys – and work still seems to pass most folks by. Robyn Hitchcock: Always too dark, clever, eccentric, strange, different . . .? Too English even?
Autumn Sunglasses, by Robyn Hitchcock
Robert Cray and Hi Rhythm: Robert Cray and Hi Rhythm (Jay-Vee/Southbound)
Once there was rural blues and urban blues but the arrival of the sophisticated and soulful Cray in the Eighties announced what we might call "suburban blues", a style which addressed different audience . . . and saw him dismissed by purists. Musicians like Keith Richards, Eric Clapton, Stevie Ray Vaughan, Buddy Guy and many others knew he was the real deal however, and a damn fine guitarist. Here he's in Royal Studios in Memphis (where Al Green used to record for Hi Records) with drummer/producer Steve Jordan, a tight band, horns and strings.
Guest Tony Joe White plays guitar on two of his own songs (the ballad Aspen Colorado and the driving psychedelic-funk Don't Steal My Love) Cray opens with Bill Withers' gentle soul-funk The Same Love That Made Me Love and digs into classic Fifties r'n'b for I'm With You in two parts (backed by the vocal duo the Masquerades). He cuts loose on guitar in the second part and on Honey Bad, and the diversity of songs and styles here – and those horns bringing a soul infusion – make for yet another quality Cray album, although he rarely sounds like he's really pushing himself.
Don't Steal My Love, by Robert Cray and Hi Rhythm
The Sadies: Northern Passage (Yep Roc/Southbound)
Canada's long-running Sadies have long been enjoyed for their nominally alt.country style but they've frequently pushed in different directions and the two openers here – the gentle Riverview Fog which puts them close to CS&Nash, the spiky country punk of Another Season Again – hit two ends of a wide spectrum.
There is wit here (the self-referential pop of It's Easy sung by Kurt Vile), the mainstream country poke at religious bigots on God Bless the Infidels), some dark reveries (the haunting Good Years, the fast pop of Through Strange Eyes), a bracing instrumental The Noise Museum and bruising rock (the late Sixties styled garageband sound of There Are No Words which winds down into steel guitar melancholy and follows the blast of Another Season Again).
Quite a spectrum, with touches of psychedelic country too (Questions I've Never Asked).
Questions I've Never Asked, by the Sadies